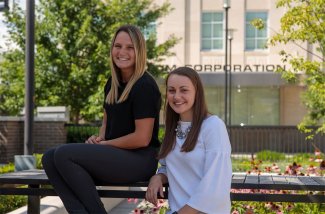 YOU REALLY DO GET THE BEST OF BOTH WORLDS AT OHIO NORTHERN UNIVERSITY.
It's a small town with a vibrant community. Without the distractions of a big city, you can explore what excites you, solve what puzzles you and build strong relationships with your new community.
At the same time, ONU is close to major cities like Toledo, Columbus, Cleveland, Cincinnati, and Dayton. So big-time internships are within easy reach. In fact, 100 percent of ONU business students undertake internships in their fields of study – at big-name organizations such as:
• Lifestyle companies like Absolut Vodka and L Brands Inc.
• Major retailers like CVS, Menards and Walgreens
• Health care organizations like the American Red Cross and Lima Memorial Hospital
• Professional sports teams like the Cleveland Indians and the Columbus Crew
• Manufacturers like Cooper Tire and Rubber Company and Marathon Petroleum Corporation
• All Big Four accounting firms
• Automotive firms like Fiat Chrysler Automobiles and Honda of America
• Insurance companies like Motorists Insurance Group and Nationwide Insurance
Most internships are paid, and some result in offers of full-time employment upon graduation. This, no doubt, contributes to our five-year average placement rate of 95 percent. In fact, the class of 2018 has a placement rate of over 98 percent!