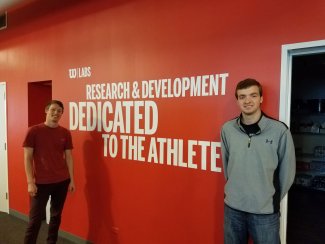 Wilson Sporting Goods collaborates with computer science students to expand data analytics software
With the rise of big data, virtually every industry is finding ways to incorporate data analytics into what they do. The National Football League is no exception. This year, two computer science students are getting in on this modern trend through their capstone project with Wilson Sporting Goods.
In recent years, Wilson has been using its new X-Pro sensor technology to experiment with data analytics as a training and evaluation tool for football players. The in-ball sensors collect data that can be used to generate metrics, such as spin rate, launch angle, velocity and throw count, that could help players evaluate and subsequently improve their performance. Wilson is currently in the process of fine-tuning a software that captures data from footballs when they are thrown, but the company would also like to fashion an extension of this software that applies to kicks and punts.
Fortunately, Wilson didn't have too far to look to find the skill and expertise needed to take on this task. After some collaboration between employees at Ada's Wilson Football Factory and neighboring Ohio Northern University, the result became a capstone project for senior computer science majors Kenneth Eaton and Jordan Heitkamp.
Since spring 2019, Eaton and Heitkamp have been devising a way to not only capture sensor data from kicks, but also channel that data into useful metrics. With the help of assistant professor of engineering education Todd France, a former NFL kicker, they generated data samples from more than 60 different kicks. Then, they took that data and used it to output a series of graphs showing acceleration values from three different sensors within the football.
The bulk of their work this spring semester consisted of determining what kind of metrics to mine from the data, and then coding out software programs to output these metrics. Once this is completed, they will send the software over to an engineer at Wilson who will integrate it into their existing X-Pro software.
For Eaton and Heitkamp, this capstone has afforded them a great deal of experience with a specialized expertise that they wouldn't be able to obtain inside a classroom. The project is unique from most of the other capstones in that the end product is not a tangible, finished product. It's experimental in nature, which is precisely one of the reasons why the experience is so valuable.
I THINK THIS IS A GOOD WAY TO NOT ONLY HAVE THIS IDEA IN YOUR HEAD, BUT ACTUALLY HAVE TO MAKE IT WORK AND PROGRAM IT," SAYS EATON.
The project also required Eaton and Heitkamp to do outside research on programming techniques and practice coding in a new programming language called "R."
"It's a very popular language – probably the top two for data science, and we chose it because it was free to use. It was similar to what Wilson is using for their existing software, and I guess we both just wanted the challenge of learning a new language," says Heitkamp.
Another skill the project has helped them refine is the ability to break down complicated computer science terms and concepts into language that anyone can understand.
"Everything we do has to be applicable to football coaches and players, so the reason you want the software, the way the software works, everything about it – we have to be able to explain it to someone so that when Wilson gets it, they can actually turn it into a product that people want to buy," says Eaton.
The capstone is just a first step in integrating data analytics into Ohio Northern's program curriculum. Just this academic year, the University launched a new data analytics major, housed within the Center for Interdisciplinary Studies. Students with this major can choose between four focus areas: geography, marketing, social media and health informatics. (Learn more about the data analytics major and minor.)
In fact, the field of data analytics is projected to grow considerably in the next several years. According to the U.S. Bureau of Labor Statistics, the employment of operations research analysts is projected to grow 26 percent from 2018 to 2028, much faster than the average for all occupations (5 percent).
IT'S AN EVOLUTIONARY STAGE OF DATA SCIENCE AND DATA MINING," SAYS ONU ASSOCIATE PROFESSOR OF COMPUTER SCIENCE JIM SELIYA, WHO IS ALSO EATON AND HEITKAMP'S FACULTY ADVISOR FOR THEIR CAPSTONE PROJECT. "EARLIER, WE USED TO WORK WITH SMALLER-SIZED DATA SETS, BUT NOW WITH FACEBOOK, TWITTER, AMAZON, INSTAGRAM AND SNAPCHAT, AND THE BOOM OF USING THE INTERNET SO MUCH, ALL THIS DATA IS BEING COLLECTED. THE OLD METHODS WE USED WITH SMALLER DATA DON'T SCALE UP WELL WITH BIG DATA, SO THE CURRENT FOCUS IN THE FIELD IS TO DEVELOP TECHNOLOGY THAT CAN HANDLE BIG DATA."
Ideally, parts of the programs Eaton and Heitkamp are creating will one day be present in a marketable product that will become a valuable asset to professional sports. It wouldn't be the first time for ONU to make an impact on such a big stage, and it certainly wouldn't be the last.