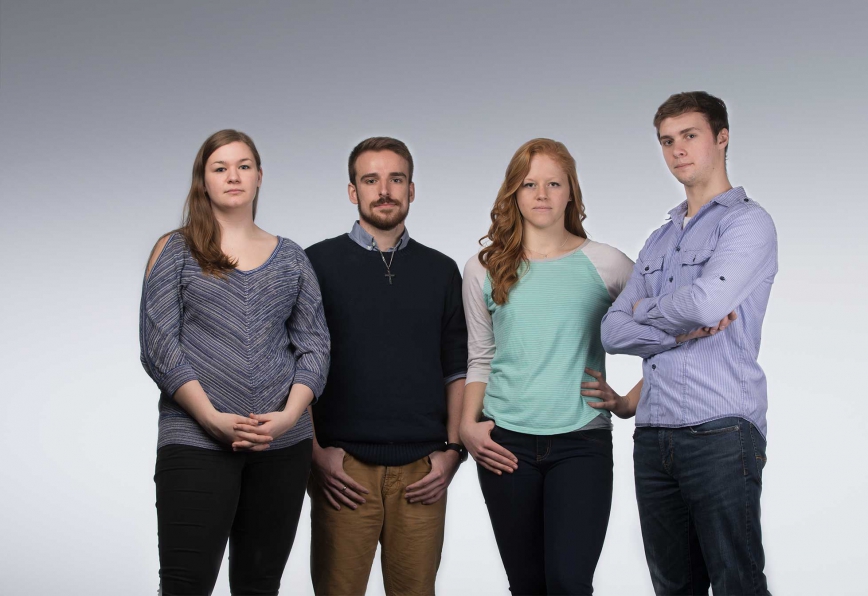 Four Ohio Northern University students have been selected as University Innovation Fellows (UIF) by Stanford University's Hasso Plattner Institute of Design. The Smull College of Engineering students are Jared Emerson of Lakeview, Ohio; Jeanne Graessle of Chesapeake, Va.; Daniel Musci of North Ridgeville, Ohio; and Cheyenne Raker of Columbus, Ohio.
As part of the program, Emerson, Graessle and Musci attended the UIF 2017 Silicon Valley Meetup in March, and Raker will participate in a similar event in November. They are among 224 students from 58 colleges and universities who are selected for this year's program.
The UIF program trains students to improve education in entrepreneurship, design thinking and creativity at their schools. While attending UIF, the students learn the skills that are necessary to become leaders of change within higher education.
The ONU students are able to attend the conference thanks to the support of the Kern Entrepreneurial Engineering Network and the Kern Family Foundation.
Students who are selected for this program are sponsored by faculty and administrators and selected through an application process twice annually. After acceptance into the program, the students undergo six weeks of online training and travel to the University Innovation Fellows Annual Meetup in Silicon Valley. Throughout the year, they take part in events and conferences across the country.
The UIF program is run by Epicenter, which is funded by the National Science Foundation and directed by Stanford University and VentureWell.