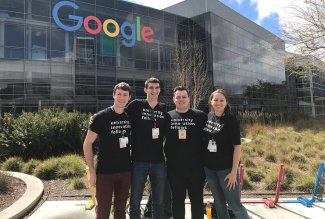 Four Ohio Northern University students have completed training to join the University Innovation Fellows program, which is run by Stanford University's Hasso Plattner Institute of Design. The students, who are enrolled in ONU's Smull College of Engineering, are Connor Hull of Algonquin, Ill.; Matthew Schweinefuss of Liberty Township, Ohio; Georgia Snelling of Findlay, Ohio; and Matt Walker of Hilliard, Ohio.
The University Innovation Fellows program encourages student leaders to increase campus engagement with innovation, entrepreneurship, creativity and design thinking.
Students who are selected for this program are sponsored by faculty and administrators and selected through an application process twice annually. Following acceptance into the program, the students undergo six weeks of online training and travel to the University Innovation Fellows Silicon Valley Meetup at Stanford and Google. Throughout the year, they take part in events and conferences that allow them to learn from each other, Stanford mentors, and leaders in both academia and industry.
The ONU students were able to complete training and attend the meetup thanks to the support of the Kern Entrepreneurial Engineering Network and the Kern Family Foundation.
The program includes 258 students from 64 colleges and universities in nine countries. With the addition of the new fellows, the program has trained more than 1,500 students since its creation.