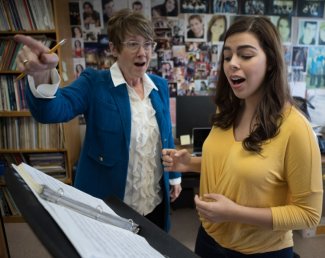 The meteoric rise of Ohio Northern University student Emily Estep's singing career will continue when she performs as the featured soloist with the Lima Symphony Orchestra during its annual "Bells, Brass and Bows" concert at 7:30 p.m. on Dec. 14 in the Lima (Ohio) Veterans Memorial Civic Center.
Although only 20 years old, the soprano from Fresno, Calif., has a combination of singing ability and personal fortitude that belies her youthfulness, according to Kirsten Osbun-Manley, resident artist and lecturer in music at Ohio Northern.
"Emily has a rare combination of talent and nerves of steel," Osbun-Manley said. "Beyond her incomparable talent, Emily has a grit about her, and she does not get rattled. This is a challenging situation in a very professional setting, with only one rehearsal before the performance. I have every confidence that Emily can withstand the pressure and will rise to the occasion as she always does."
Estep, a senior, is pursuing a BFA degree in musical theatre. She is a graduate of University High School in Fresno.
Estep is embracing the opportunity.
"An opportunity like this doesn't come around very often, and I am so grateful that Kirsten thought to submit my name," she said. "There is just something so special about singing with live music, and I'm really looking forward to it."
Estep has already distinguished herself, winning the Inspiration Award at the Great American Songbook Academy in summer 2017, and then subsequently singing with founder Michael Feinstein at his club, Feinstein's at the Nikko, in California.
She has also amazed crowds in the northwest Ohio region through performances at ONU, most recently with her rendition of "O Holy Night" as part of the Holiday Spectacular extravaganza on campus and at the Lima convention center.
During the Dec. 14 performance, Estep will sing four numbers: "Let There be Peace on Earth," "O Holy Night," "It's the Most Wonderful Time of the Year" and a jazzy arrangement of "Santa Claus is Coming to Town."
The opportunity began with a call from LSO executive director Elizabeth Brown-Ellis in August, asking if Osbun-Manley knew of a singer of the caliber for this performance, which is one of LSO's biggest annual concerts. A stipulation is the performer had to be approved by Roger Kalia, who will conduct the symphony.
"Right away, I thought of Emily. She is a polished performer, and I thought this would be a wonderful opportunity for her to showcase her talents. I sent a clip of Emily performing, and the  conductor was wowed by her performance," Osbun-Manley said.
The opportunity is a tribute to both Estep's ability and the quality of the ONU music performance program.
"Our reputation and connections with the Lima Symphony Orchestra paid off," Osbun-Manley said. "Our students have previously performed with the symphony, and members of the symphony are aware of our students' talents. Also, we have a strong connection from the annual Patriotic Pops concert on campus and other collaborations."
The upcoming concert adds to the invaluable experience Estep has gained during her college career to prepare her for her future pursuits.
"As a musical theatre major, I am training to have a career as a working stage actor, performing in musicals and plays. I'm not quite sure where I am looking to move after graduation, but I still have an open mind and we will see where the work takes me."