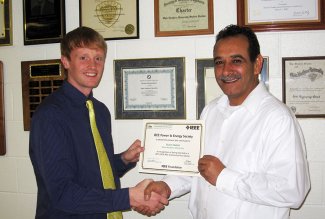 Ohio Northern University student Dutch Malott, a senior electrical engineering major from Newark, Ohio, has been awarded an undergraduate engineering scholarship through the Institute of Electrical and Electronics Engineers (IEEE) Power & Energy Society (PES) Scholarship Plus Initiative.
Malott was one of 210 PES engineering scholarship recipients to be selected from the 540 individuals who applied. These undergraduate students are majoring in electrical engineering, are high achievers with strong GPAs with distinctive extracurricular commitments, and are committed to exploring the power and energy field.
These scholarships are made possible through the generous donations of individuals and corporations to the IEEE Power & Energy Society Scholarship Fund of the IEEE Foundation. IEEE is the world's largest professional association dedicated to advancing technological innovation and excellence for the benefit of humanity. IEEE and its members inspire a global community through IEEE's highly cited publications, conferences, technology standards, and professional and educational activities.
ONU is in the IEEE Region 2, which includes Ohio (except Toledo), Pennsylvania, Delaware, the District of Columbia, New Jersey (southern), Virginia (northern) and West Virginia. Khalid Al-Olimat, professor and chair of the electrical and computer engineering and computer science department serves as the advisor of the IEEE Student Chapter at ONU.