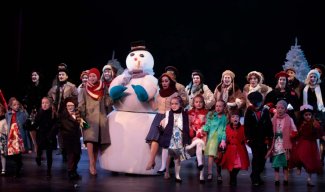 Due to COVID-19 restrictions and health concerns, "The ONU Holiday Spectacular" has been canceled for 2020.  Although this decision is regrettable, it is also the only reasonable choice in the current environment, especially in regards to protecting the health of the many performers and others involved in this production, including Ohio Northern students as well as other members of the university and area communities, in addition to guests and theater staff members.
Plans are to again host the extravaganza in 2021 and beyond.
The fully staged musical revue ushers in the holiday season and has become a holiday tradition for countless individuals. The Holiday Spectacular includes dancing and singing while showcasing the performance talents of ONU students and area children. Performed in both the Ohio Northern Freed Center for the Performing Arts and the Lima Veterans Memorial Civic and Convention Center, the spectacular celebrated its 25th year in 2019.
The festive show also features the finest in community partnerships. Harry and Myrna Shutt, the owners of Kewpee Hamburgers, have underwritten "The ONU Holiday Spectacular" since its inception in 1994.