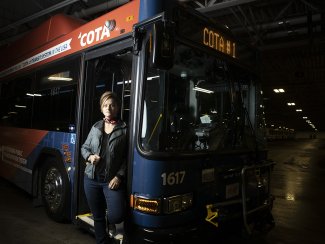 As the leader of public transportation
In Ohio's largest city and metro area, alumna Joanna M. Pinkerton is in a prime position to strengthen the buckeye state.  Fueled by a dynamic spirit, she's committed to her mission to use innovation and mobility to improve quality of life.
Mobility and innovation have long gone hand in hand. Humankind is always trying to figure out how to get from point A to point B better, faster and more comfortably. In just the past century, we've made leaps and bounds — from the Model Ts to Teslas, the Wright Flyer to 777s. In the next century, who knows? (Maybe point B isn't even on this planet.) So in an industry that's naturally driven to constant innovation, how do you keep up?
Easy answer – never stand still.
Perpetual motion is almost a way of life for Joanna (Mullins) Pinkerton, BSCE '98, who became president and CEO of the Central Ohio Transit Authority (COTA), the mass transit system for Columbus, Ohio, and the surrounding region, in 2018. After working more than two decades in the transportation industry, she's learned a thing or two about how to keep moving in the right direction. That's what made her the perfect fit to guide COTA into the future of public transportation.
COTA moves tens of thousands of people every single day and will provide nearly 20 million rides this year. It has nearly 1,200 employees, a fleet of 327 large buses and several micro-transit units and ADA-compliant vehicles. It was rated No. 1 Outstanding Public Transportation System in the USA in 2018 by the American Public Transportation Association, and in a community that is growing at the rate of about 40,000 per year, it is a leading authority in preventing urban congestion in central Ohio.
"Roads don't move people – systems move people. We know how to do that with our eyes closed," says Pinkerton. "But we have to acknowledge what role we play in this community. Our community is one of the most economically successful, fastest growing east of the Mississippi. More than 100 people are moving here a day. And even though we're projected to grow by a million people, we are not going to be widening the size of the roads.
WE ALL KNOW THAT YOU CAN'T BUILD YOUR WAY OUT OF CONGESTION. WE HAVE TO USE WHAT WE HAVE BETTER."
Despite central Ohio's growth and success, the region's high poverty rate still casts a looming shadow. In response, One Columbus, the region's economic development organization, announced an initiative to make central Ohio the most prosperous region in the United States. Under this vision, prosperity is defined as "the process by which more and more people in a region improve their economic and social well-being."
It was upon this launching pad that Pinkerton worked with the COTA Board of Trustees to establish a new strategic plan to steer COTA through the next five years. They canvassed the employees – What gets you up in the morning? They appealed to customers and non-customers – college students, corporations and businesses – How can we help you succeed? They talked to stakeholders and fellow government entities – How can we aid your initiatives? In the end, it all boiled down to one vision statement – "Moving Every Life Forward."
"No matter what market sector you're in, I have really noticed mobility is a barrier, or it can be a barrier, to employment, health care access, education, food – and we kind of take for granted the road's just there. Again, that road doesn't move people; it's systems that move people. And systems don't work without people helping. That's kind of how the vision statement came about. A lot of input from people – hundreds of people – and it rose to the top."
Once the vision had been established, Pinkerton kicked innovation into high gear. She oversaw a significant reorganization of COTA, which included the addition of a chief innovation officer. She implemented micro-transit and on-demand mobility services, championed an advanced mobile app and launched a mobile fare payment option through which customers can pay digitally and board using a special QR code on their phone.
Of course, innovation is null without the right group of people to support it. That's why Pinkerton also focuses heavily on COTA's internal culture. Every single day, she makes it a point to talk to as many employees as she can, from bus operators to office staff. How's your day going? How are the road conditions out there? How was your route today? So simple, but so effective.
"Transportation is a difficult industry. People have tough jobs," she says. "People need to feel appreciated, and we're really focused on improving the culture here so that people feel like they are connected toward an important vision for our community… People may not remember what you do and what you said, but they will always remember how you made them feel."
That appreciation is not only well-received by COTA employees but also reciprocated right back out to the people they serve, resulting in an enhanced customer experience.
In the 18 months since Pinkerton became CEO, COTA has seen definitive results. The organization boasts an incredibly high customer satisfaction rate of 91 percent – higher than that of other major cities like Seattle and Los Angeles. Thanks to a transit system redesign in 2017, COTA's high-frequency service is now in front of 71 percent more businesses and 89 percent more homes, which has led to COTA being one of only six mass transit systems in the nation that has seen an increase in ridership. But perhaps the most significant accomplishment is that all of this was done without a significant increase in funding.
Pinkerton is certainly proud of all that COTA has been able to accomplish thus far, but she's not about to rest on her laurels.
I DON'T THINK YOU EVER CAN SIT STILL, OR YOU'RE ALREADY BEHIND," SHE SAYS. "I THINK WE HAVE TO REDEFINE WHAT ORGANIZATIONAL EXCELLENCE MEANS. TO ME, IT MEANS THAT NO PERSON SHOULD BE WITHOUT MOBILITY IN CENTRAL OHIO – EVER."
Of course, this is a lesson that stems back to her ONU days. She will never forget the exasperation she felt one semester when she received straight A's in every class – except one. A certain professor (who shall remain nameless) decided to give her a B. Ironically enough, the course was Transportation III.
"I literally went into his office – you know how you are when you're 20 years old and you think you're right about everything – and I was like, 'I got A's on my homework. I attended every class. What's going on?' And so in the final exam, in addition to math and solving the problem, you have to write a proposal as if you're actually doing this improvement, and he said, 'I just thought you could do better, so I gave you a B.' And I was so shocked. He challenged me to think about how to present the solution better. My ego was wounded, but to this day, that rigor has really stuck with me."
Pinkerton's zealous leadership has not gone unnoticed by other leaders in the state. To assist with the new InnovateOhio initiative, she has worked closely with Lieutenant Governor Jon Husted and was appointed by Governor Mike DeWine, JD '72, to the Drive Ohio Advisory Board. Having previously worked for the Union County Engineer's Office and the Ohio Department of Transportation, she also brings a valuable voice of experience to the table.
People often ask Pinkerton about her views on transportation network companies (TNCs) such as Uber and Lyft or innovative transportation systems like the light rail. Her answer often surprises them.
"I don't see that as competition. I see that as part of the solution. We believe that everything has to be connected, so you have to have options in order to move around," she says. "The world's really turning into the sharing economy now. Mobility is a service. Whether you call a TNC or whether you run a scooter or whether you borrow a car, you're looking at a shared service. That's what public transit has been from the very beginning. So I think we're in this sweet spot to be the ones to help deploy more modes of transportation."
Still, traditional modes of public transportation remain a top priority, and Pinkerton's forward thinking is evident in the technological innovations of COTA's bus fleet. Each bus is outfitted with cutting edge technology – free on-board Wi-Fi, nine high-definition security cameras and real-time GPS tracking technology. At any time, customers can pull up their transit app and see the exact location and expected arrival time of their transit vehicle. To reduce greenhouse gas emissions, more than half of COTA's fleet is run solely on natural gas (will be 100 percent by 2023), and starting this year, COTA will begin the transition to electric buses.
COTA's buses are also equipped with something called Vehicle to Infrastructure (V-to-I) technology, which allows the vehicle to communicate with traffic lights. When a V-to-I-enabled bus approaches a green light, the vehicle can actually "talk" to the infrastructure to essentially keep the light green longer, letting the bus through and keeping the route running on time.
But behind all the complex technological bells and whistles, COTA's ultimate goal is simple – improving people's quality of life by getting them where they need to go. As she looks to the future, she sees plenty of challenges up ahead. With an aging population that is increasing exponentially each decade, public transportation will become the preferable option for more and more people, both in urban and rural areas. Public transportation is poised to become more crucial than ever, more digital than ever and more integral than ever to the success of our great state of Ohio. It's a challenge she's more than ready to face head-on.
"I just don't think you're ever done," she says. "You have to keep drawing all of these things and tying them together, and so it's just a great time to be in mobility, and I love that Ohio – we're kind of this powerhouse. We're so strong and powerful economically with our workforce in Ohio, but people kind of underestimate us."
That may be true, but that's what makes Ohioans such a force to be reckoned with.
This story was originally published in the Winter 2020 edition of ONU Magazine.