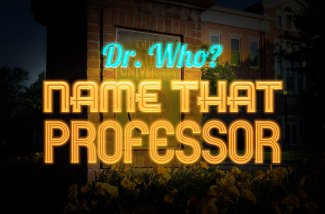 A Getty College of Arts & Sciences online quiz puts students to the test
Maintaining our connections to one another during quarantine has become increasingly important to hanging onto any semblance of normalcy during the coronavirus pandemic. The Getty College of Arts & Sciences recently got creative in its efforts to engage Ohio Northern University students with its lighthearted  "Name that Faculty Member" quiz.
Comprising 60 multiple-choice questions, the online questionnaire puts ONU's well-earned reputation for student-faculty engagement to the test. The subject matter strays far from a professor's academic or professional experience and delves into interesting histories, quirky teaching habits and surprising hobbies that students may not expect.
Dean Holly Baumgartner came up with the idea, and she worked with dean's coordinator Heidi Leek to solicit questions from the college's faculty to put together the quiz.
"We thought it would be a playful way to connect with our students. It's a stressful time for everyone, so I thought that if our faculty would be willing to roast themselves a little bit, it could be something engaging for our students," says Baumgartner. "We had 67 faculty responses, and Heidi and I spent an entire afternoon going through their emails laughing out loud."
With the College of Arts & Sciences being the largest of ONU's five colleges and containing the most diverse range of academic programs, it's no surprise the quiz has a broad scope to its questions. But, it's truly impressive to discover just how quirky some of the faculty is. For example, one faculty member once met MC Hammer, another wrote Star Wars fan fiction every day from ages 13-19, and another actually owns a cemetery. 
While the quiz was undoubtedly the most entertaining exam students took all year, it may have also proved to be one of the most difficult. Two students tied for the highest score of 76 percent, but when you are asked to identify the professor who once won a corn-fritter eating contest, a solid "C" was pretty good.
The "Name that Faculty Member" game ran from April 14-24 and culminated at the college's first-ever virtual faculty awards celebration where Baumgartner announced the winners and awarded prizes that included Getty College loot and gift cards. In a semester turned upside down, the quiz proved to be a unique way for students to remember what makes the College of Arts & Sciences so special.
"Just because we can't all be on campus together, doesn't mean we can't still have fun," she says.
The student winners were as follows:
First Place (Scored 76 percent)
Olivia Alexander, biology
Ian Smith, psychology
Second Place Winners (Scored 65 percent)
Ashley Nutter, forensic biology
Amanda Ohler, biochemistry
Michelle McCalmont, nursing