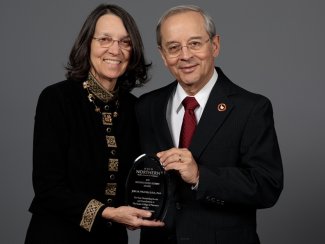 Dr. Joel M. Weaver II and Barbara L. Weaver of Westerville, Ohio, have endowed a scholarship fund at Ohio Northern University that pays tribute to the past and opens future doors of opportunity. 
To honor Dr. Weaver's parents, Joel and Mary Ellen Frame Weaver, they have established the Joel M. Weaver II and Barbara L. Weaver Endowed Scholarship Fund. The fund will support scholarships for deserving pharmacy students at ONU, beginning fall semester 2019. 
Dr. Weaver, a 1968 graduate of the Raabe College of Pharmacy at Ohio Northern, credits his parents for their support and encouragement in helping him achieve his goals. His parents highly valued the importance of higher education and family.  
Since graduating from ONU, Dr. Weaver built a successful career as a board-certified dentist anesthesiologist specialist and became an internationally-recognized leader and educator in his profession. 
Dr. Weaver joined the faculty at the Ohio State University in 1976 and maintained a dual appointment in the College of Dentistry and in the Department of Anesthesiology in the College of Medicine. Weaver was the founding director of OSU's master's degree residency program in dental anesthesiology. 
Dr. Weaver has received numerous awards, including the Postle Teaching Award from the OSU College of Dentistry and teacher of the year, chosen by OSU's medical anesthesiology residents and twice by the student nurse anesthetists. He has also received the Ohio Dental Association's Achievement Award for Outstanding Service, the Distinguished Service Award from Ohio State and the OSU College of Dentistry Distinguished Alumni Award.  
In addition to receiving a Bachelor of Science in Pharmacy degree from ONU, Dr. Weaver earned a Doctor of Dental Surgery degree from Ohio State. He also earned a Ph.D. from OSU's College of Medicine's Department of Pharmacology, where he received the Chauncy D. Leake Prize in Pharmacology for Outstanding Achievement. 
Dr. Weaver was recently honored with a Distinguished Alumni Award from ONU's Raabe College of Pharmacy. 
 "This endowed scholarship fund serves as a lasting tribute to Dr. Weaver's parents by continuing their legacy of support and understanding of the long-lasting value of higher education," Ohio Northern Vice President for Advancement Shannon Spencer said. "We appreciate the generosity of Joel and Barbara Weaver in establishing this scholarship fund, which will help future students benefit from the Ohio Northern educational experience."