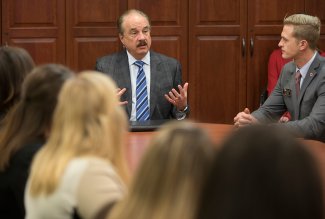 Larry J. Merlo, president and chief executive officer of CVS Health [NYSE: CVS], delivered the Sebok Pharmacy Lecture at Ohio Northern on Feb. 16.
"As change accelerates in health care, pharmacy can drive important solutions in the areas of cost, quality and access," Merlo said during his remarks. "In fact, I believe we are witnessing the beginning of a reinvention of pharmacy that will help drive more affordable, accessible and effective care."
CVS Health, the nation's largest pharmacy innovation company with net annual revenues of $177 billion, touches more than 100 million people each year through its unique combination of assets, including 9,700 retail pharmacies, more than 1,100 walk-in medical clinics, a leading pharmacy benefits manager with more than 89 million plan members, a comprehensive provider of pharmacy services to long-term care facilities, and expanding specialty pharmacy services.
Under Merlo's leadership, the company is helping to reshape health care by delivering breakthrough products and services that enable people, businesses and communities to manage health in more affordable, effective ways. As part of this deep commitment to public health, in 2014 the company announced the landmark decision to be the first major retail pharmacy to eliminate tobacco sales in all of its stores. To reflect this broader health care commitment, the company subsequently changed its corporate name to CVS Health.
Additionally, Merlo was recently named "Health Care Executive of the Year" by Chain Drug Review publication.
 
"We were honored to have Larry Merlo visit campus and deliver the Sebok Lecture," said Steven J. Martin, dean of the ONU Raabe College of Pharmacy. "We appreciate the insights he shared and the time he took to interact with our students. This underscores our commitment to providing students with high-impact learning experiences that prepare them for success in their own careers."
At the conclusion of the talk, Merlo, along with Hanley Wheeler, CVS Health senior vice president, presented the ONU College of Pharmacy with a corporate grant of $50,000. The funds will provide support for the ONU HealthWise mobile clinic, which features a comprehensive smoking cessation programming in addition to primary care services for the rural Hardin County region. ONU HealthWise also delivers educational outreach and clinical services to support the health and wellness of the campus and surrounding communities. It further offers an interdisciplinary clinical practice experience for ONU health professions students.
Wheeler is a graduate of the Ohio Northern College of Pharmacy.
"We are grateful for this gift and the impact it will have on improving the quality of life for areas of the region," ONU President Daniel DiBiasio said. "It is an honor to have someone of Larry Merlo's stature on campus. Further, we value the strong partnership between Ohio Northern and CVS Health, which is the largest employer of ONU graduates."
During his time on campus, Merlo also talked with several ONU pharmacy students who are interns with CVS Health.
Merlo, a pharmacist by education, joined CVS Pharmacy in 1990 through the company's acquisition of Peoples Drug. Prior to assuming the role of president and CEO in 2011, Merlo held positions of increasing responsibility, most recently president of CVS Pharmacy. Under his leadership, the company completed some of the most successful acquisitions in the history of retail pharmacy and delivered significant organic growth in major markets across the country.
Merlo currently serves on the Board of the National Association of Chain Drug Stores and the University of Pittsburgh's Board of Trustees. He also is a member of the Business Roundtable.
He is a graduate of the University of Pittsburgh School of Pharmacy.
The Sebok Pharmacy Lecture was established by alumni and friends of the Raabe College of Pharmacy to honor Dr. Albert A. Sebok, a 1953 ONU graduate and one of the College of Pharmacy's most distinguished alumni. Sebok joined Standard Drug as a store manager after graduation. In 1961, Revco acquired Standard. Under Sebok's leadership as senior vice president for store operations, Revco DrugStores Inc. became the largest discount drug chain in America.  Revco was acquired by CVS Health in 1997. Sebok was an original member of ONU's Pharmacy Advisory Board and the founder and instructor of the college's contemporary pharmacy practice class. He received an honorary doctorate from Ohio Northern in 1988.
About CVS Health
CVS Health is a pharmacy innovation company helping people on their path to better health. Through its more than 9,700 retail locations, more than 1,100 walk-in medical clinics, a leading pharmacy benefits manager with more than 89 million plan members, a dedicated senior pharmacy care business serving more than one million patients per year, expanding specialty pharmacy services, and a leading stand-alone Medicare Part D prescription drug plan, the company enables people, businesses and communities to manage health in more affordable and effective ways. This unique integrated model increases access to quality care, delivers better health outcomes and lowers overall health care costs. Find more information about how CVS Health is shaping the future of health at https://cvshealth.com/.