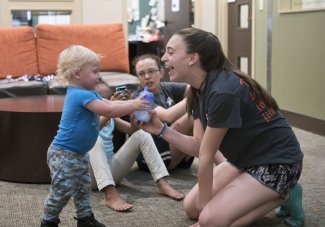 A field exercise intended to show the differences in teaching environments reveals how similar they actually are.
In May, a contingent of ONU education majors spent a week in urban schools in Nashville, Tenn., to experience, firsthand, classroom environments different than those they are used to. Teaching in a multicultural school is an eye-opening experience; for some students, it's career-altering.
"I always thought I'd teach in a school like the one I attended," says Dean McNeil, a senior middle childhood education and Spanish double major from Medina, Ohio. "But the Nashville trip changed my mind."
It was the fourth consecutive year that the ONU education department took students on a field experience to Metropolitan Nashville Public Schools. In order to graduate, the state of Ohio stipulates that education majors must complete 100 hours of field experience. Most ONU students end up with 120 to 190 or more hours depending on their licensure, but they spend the bulk of that time working in the predominately homogenous rural and suburban schools around Hardin County, Ohio.
While ONU students encounter poverty in area schools, it's not pervasive in most. In addition, multicultural classrooms are uncommon in Ada, Kenton or Lima, Ohio. "The ONU students are used to schools in which the student body is predominately white or predominately African-American," says Adrienne Goss, assistant professor of education. "They don't see a mixture of students from all different cultures and countries."
The Nashville field experience provides needed diversity, adds Goss. "We want to broaden their perspective," she explains. "Our objective is to prepare our students to teach anywhere."
The education department keeps the cost of the trip low to encourage attendance. The eight ONU students paid just $100 each, plus the cost of food, for the weeklong experience. 
ALUMNI PAVE THE WAY
Two of the education department's stellar graduates – Julie (Herendeen) Travis, BA '04, and Stephanie Carr, BA '05 – play a central role in the Nashville field experience.
Travis moved to Nashville after graduation to teach eighth-grade language arts at Jere Baxter Middle School, where the students face numerous risks associated with living below the poverty level. After four years of successful classroom teaching, capped by a year in which 100 percent of her students were proficient or advanced in both reading/language arts and physical science, she moved into educational leadership. Today, she is an assistant principal at Maplewood High School in Metro Nashville Public Schools.
Carr, who has spent her entire teaching career in an urban setting, is an eighth-grade English and U.S. history teacher at Wright Middle School in Nashville. She believes that every student can learn at high levels. She sets high expectations for her students and holds herself 100 percent responsible for the learning that takes place in her classroom. 
Both Travis and Carr jumped at the chance to help their former ONU professors envision and develop an urban field experience. Every spring, they help to match the ONU students with cooperating Nashville teachers, and they personally meet with the ONU students if their schedule allows.
"I left ONU with extensive pedagogical knowledge and excellent ideas about classroom management," says Travis. "When I stepped into an urban classroom, I was completely outmatched by the myriad needs of students living in urban poverty. The field experiences in and around Hardin County just couldn't provide the exposure to the diverse needs of urban students. Anything I can do to help students at Northern expand their worldview will ultimately benefit their future students – in Ada or Nashville or anywhere in between."
PREPARING FOR CULTURAL DIFFERENCES
To prepare for the trip, ONU students must take Culture and Schooling, a course that explores the historical, cultural, social and political issues that impact public education in the U.S. In particular, the course examines how "school" is perceived and experienced differently by children of various races and socio-economic backgrounds. 
Educational Psychology is another course that challenges students to understand the mindset of children who come from different backgrounds. "This course helped me to look at the world through a new lens," says Lindsay Porter, BM '17, who went on the Nashville trip last spring. "I learned a lot about myself and my own prejudices and assumptions."
Goss, however, admits that it's impossible to fully prepare students for the trials and joys of teaching in an urban school. Even the Nashville trip – five days in duration – provides only a snapshot view. "It's always just a glimpse until you do it yourself," says Goss. "But the Nashville experience lays a foundation that students can build on throughout the remainder of their program at ONU."
WITNESSING THE CHALLENGES
Two Nashville schools – Una Elementary (kindergarten through fourth grade) and Wright Middle School (fifth through eighth grade) – serve as sites for the field experience. Approximately 88 percent of the students at Una Elementary live below the poverty level, and non-white students make up 70 percent of the student body. At Wright Middle School, 70 percent of the students do not speak English at home, and 93 percent live in poverty. 
During the course of the week, the ONU students collaborate with high-performing teachers well-versed in culturally competent practices. They interact with students, teach classroom lessons, tutor individual students, and sit in on parent-teacher conferences and teacher meetings. In the evenings, the students participate in debriefing sessions and visit a homeless shelter where they interact with children and parents. 
For the first time, the ONU students see poverty and diversity as real challenges, not just abstract concepts discussed in class. They witness children who struggle to pay attention in class because they aren't sure where they are going to sleep that night or when they'll get their next meal. They see teachers put forth herculean efforts to teach classrooms of kids who speak several different languages.
Sarah Horman, a sophomore language arts education major from Wapakoneta, Ohio, says the teacher she shadowed struggled with parental involvement. "Many parents did not speak English and had limited education, so they didn't feel comfortable talking to the teacher or asking for help." 
McNeil put his Spanish-language skills to the test by helping in an English Language Learner (ELL) first-grade classroom in which not one of the 17 children spoke English as a first language. He conversed with many of the students in Spanish and translated instructions for the classroom teacher.
This May was McNeil's second trip to Nashville, and it afforded him a more critical perspective. Last year, he noticed that many of the teachers at the school were young teachers. This year, he discovered why teachers burn out so quickly, requiring the school to constantly hire fresh recruits. "The pressure and stress levels are high," he says. "Teachers don't leave because they don't care about students; they leave because they have to put themselves and their families first."
Goss concurs that teachers in urban settings with high poverty and racial diversity face tremendous pressure. Despite overwhelming obstacles, they're expected to be able to help their students achieve good scores on state tests. "There are so many factors outside of a teacher's control that affect test scores, yet all the burden falls on the teacher," says Goss.
MAKING CONNECTIONS
Most ONU education majors don't have a lofty reason for participating in the Nashville experience. Often, they sign up because they are curious. "I grew up in a small rural town, and I attend college in a small rural town," says Porter. "I realized there was so much I had not seen. I had never experienced an urban school, and I wanted to."
Although ONU professors strive to make students aware of their underlying stereotypes and prejudices, most students still possess them to some degree when they leave for Nashville. They've been indoctrinated by the powerful, yet unrealistic, images of urban schools shown on television and in movies. They picture walking into a school where students are fighting in the hallways and ceilings are literally crumbling down around them. 
But within minutes of arriving at their assigned school, the students forget their nervousness and become totally engaged in the surroundings, says Diana Garlough, assistant professor of education and director of the Center for Teacher Education.
"When students walk the hallways the first time, it's a very different feeling for them. Many experience what it feels like to be a racial minority for the first time in their lives. They see different races mingling and different languages being spoken. Some classrooms are louder, and teachers may have a different style of teaching than what they are used to," she says. 
Once they start interacting with the children, the ONU students realize they're really no different than the children who attend Ada Elementary. And for most, this is an eye-opening revelation.
"Kids get excited about the same things. Discipline problems are over the same behaviors," says McNeil. "It showed me that kids are kids no matter whether they attend an urban, suburban or rural school."
"Kids – no matter where they are from – just want to be loved and understood," says Horman. "But this experience showed me that each student has a different story, and this is key in treating them as individuals."
Some ONU education majors enjoy the Nashville field experience, but still opt to teach in a rural or suburban school. Others, like McNeil and Kristin Sessler, BSEd '17, are so impacted by the trip that they have a change of heart.
"Students go on this field experience to test the waters," says Penny Gibson, coordinator of partnership development in the education department. "Many walk in saying, 'I could never teach in an urban environment,' but they walk out saying, 'I could see myself doing this.'"
Goss believes fear of the unknown is what keeps ONU students from considering teaching in an urban school. When they experience an urban school firsthand and interact with real students, that fear is shattered. "I think they see another dimension. They see the amazing connections that they can make and the richness that diversity can bring to their lives."
McNeil says he was surprised to see the amount of classroom unity and learning taking place in the midst of the diversity. "I was expecting to see cliques based on race or culture, but that wasn't the case," he says. "Diversity was part of the school's identity, and students embraced that. It made me look at diversity as a benefit and not a detriment to a community of learners."
Sessler applied for positions in Nashville's urban schools and landed a first-grade teaching position in Clarksville, Tenn., one hour north of Nashville. She encourages other education majors to sign up for the Nashville field experience. "It's a once-in-a-lifetime opportunity. Maybe you'll like it, and maybe you won't. But I guarantee you'll learn so much either way."
McNeil no longer wants to teach in a suburban school like the one he attended in middle school. Instead, he hopes to land a teaching job in an urban school after he graduates. "This experience made me want to be an activist teacher within my own sphere of influence," he says. "Many of the kids that I interacted with at the Nashville school have just been dealt a tough hand. They need someone to go to bat for them. This trip made me want to be that person."