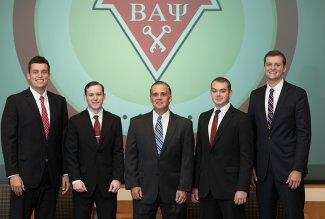 Tom Powers, director of assurance services at GBQ Partners LLC in Columbus, was recently inducted as an honorary member of the Beta Alpha Psi accounting and finance honorary at the Ohio Northern University Dicke College of Business Administration. Powers is a 1988 accounting and finance graduate of the college.
Powers joined GBQ in 2009. Prior to joining the firm, he was at Ernst & Young LLP for 21 years, serving as an assurance and business advisory services partner for seven years in the Columbus office.
"Tom is a wonderful example of the many individuals who have used their ONU-instilled principles and talents to succeed in their business endeavors," said Matthew Phillips, associate professor of accounting in the College of Business Administration and advisor to Beta Alpha Psi.
GBQ Partners LLC, founded in central Ohio in 1953, is an independent tax, accounting and consulting firm serving six offices and five states.
A.J. Hatem, director of ONU's MSA program, was also inducted as an honorary member, along with 15 new student members. Also, 12 student pledges were recognized during the recent ceremony.
Founded in 1919, Beta Alpha Psi is an honor organization for financial information students and professionals. There are more than 300 chapters on college and university campuses with more than 300,000 members initiated since Beta Alpha Psi's formation. The primary objective of Beta Alpha Psi is to encourage and give recognition to scholastic and professional excellence in the business information field.
Following is a list of those who were inducted as a new member or recognized as a pledge to Beta Alpha Psi at the ceremony.
Member Inductees
Jonathan Brazell
Ledondrick Chapman 
Joshua Couchman  
Devin Curren
Maximilian Dole
Matthew Eilola
Joseph French
Austin Jensen
Renee Kraft
Katie Kurtz
Brenden Medina
Kelleigh Pier
Joseph Rinicella 
Lyndsey Schwartz
Andrew Tompkins
Student Pledges
Kelsey Dorfmeister
Brenden Hadley
Benjamin Hood
McKenna Hostetler
Megan Kerr
Jonathan Ketchel
Corbin Markwood
Kyle Neff
Grant Nieszala
Martrina Parks
Ian Pennino
Genki Tofuku 
The following were unable to attend the ceremony will be inducted at a separate ceremony:
Trenton Kramer
Abdullah Maghrabi
Gia Saturday