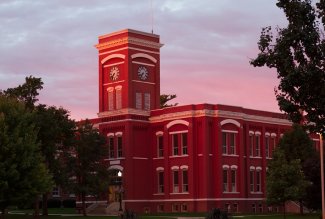 By several measures, Ohio Northern University is an outstanding college choice. In fall 2017, ONU is again featured in several venues that highlight outstanding colleges and universities.
For example, Ohio Northern is ranked fourth in the Midwest among regional liberal arts colleges in the 2018 U.S. News & World Report Best Colleges rankings. These colleges and universities focus on the undergraduate experience and offer a broad range of programs in the liberal arts and in professional fields such as business, nursing and education. Last year, ONU was ranked sixth in this listing.
The U.S. News rankings lauded other ONU programs and aspects of the University's educational experience. Ohio Northern's T.J. Smull College of Engineering is ranked 29th nationally among engineering programs that offer a bachelor's or master's degree as the highest degree. The college continues to advance among top schools after being ranked 31st last year and 39th the year before. This marks the 10th time in the last 11 years that ONU's College of Engineering has been ranked as a top-50 program.
Further, the publication takes note of the value of an Ohio Northern education. ONU is fourth among Midwest regional colleges in the "Great Schools, Great Prices" category, which considers quality of programs compared to cost to attend the university.
ONU is also included in the "A+ Schools for B Students," which focuses on colleges and universities where students who possess spirit and hard work find an environment where they can thrive.
Other rankings services offer Ohio Northern equally high marks. ONU is included in Money magazine's list of best colleges, which combines educational quality, affordability and alumni success in compiling its rankings.
Washington Monthly ranks the University sixth on its "Top 150 Baccalaureate Colleges" list.
In addition, Ohio Northern is included in the College Choice "Best Colleges in Ohio" rankings. These rankings focus on academic reputation, student diversity and return on investment.
The Princeton Review includes Ohio Northern among its "Best 382 Colleges" and names it a "Best Regional College." These outlets rely on input of current students to gauge the college experience from the students' perspective. Students remarked favorably on their academic programs as well as the quality and caring of faculty members. Among comments are "renowned faculty … are outstanding and influential in their field." Also, "professors are friendly and down to earth … professors care about students' well-being and future endeavors."
Among other comments from The Princeton Review: "The accounting program is highly ranked, it has a great political science program that has sent many students to graduate school and politics and the Raabe College of Pharmacy is focused on developing … well-rounded leaders."
Additionally, the University is listed in "Creative Colleges," a 2017 guide that selects schools based on the strength of the creative programs offered at each institution.
Ohio Northern continues to offer a relevant, high-impact educational experience that prepares students for rewarding careers and fulfilling lives. Its students regularly are involved in undergraduate research endeavors that are on the level of graduate-school projects. The University also has a wealth of internships and other experiential opportunities that bridge the classroom with the workplace and allow students to develop the interpersonal skills that are valued by employers.
The University's success is gauged by the accomplishments of its recent graduates. According to the University's Office of Polar Careers, 94 percent of students who graduated in 2016 found employment or are enrolled in graduate school within six months of graduation. This number is consistent with recent years, with 93 percent of graduates finding work in 2015 and 95 percent of graduates the year before.