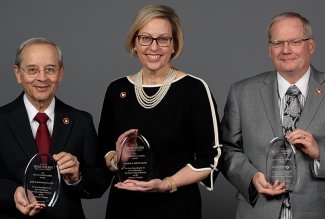 Ohio Northern University's Raabe College of Pharmacy recently honored three alumni with Distinguished Alumni Awards. This was the 10th year that Distinguished Alumni Awards were presented by the College of Pharmacy.
David W. Bobb, a 1977 graduate; Suzanne Amato Nesbit, a 1984 graduate; and Joel M. Weaver, a 1968 graduate, were recognized for their outstanding career accomplishments and their contributions to ONU.
David Bobb is a pharmacist, attorney and retired United States Air Force colonel with experience in both the civilian and federal health care management sectors. His varied career has placed him in such practice settings as independent pharmacies, large retail chain pharmacies, USAF pharmacies, industry, and, more recently, positions with the Department of Health and Human Services and the Department of Defense.
Bobb works with Congressional delegations and staff to provide Department of Defense pharmacy program updates to both the Senate and House Armed Services Committees. He has served on the board of directors for the American Society for Pharmacy Law, Department of Defense Pharmacy Advisory Board and the San Antonio Uniformed Services Health Education Consortium. In addition to receiving a Bachelor of Science in pharmacy from ONU, Bobb earned a Juris Doctor from Franklin Pierce Law Center, a Master of Arts in air warfare from the American Military University, and a Master of Military Art and Operational Science and a Master of Strategic Studies from Air University.
Suzanne Amato Nesbit is president of the American College of Clinical Pharmacy (ACCP). She is a clinical pharmacy specialist in pain management and palliative care at The Johns Hopkins Hospital. Nesbit has been practicing in pain management for more than 30 years and has participated in several research protocols and health system pain initiatives during her tenure at Johns Hopkins. More recently, she was named co-chair of The Johns Hopkins Hospital Health System Opioid Stewardship Clinical Community. In July 2018, Nesbit was appointed to a workgroup developed by the Centers for Disease Control and Prevention (CDC). The workgroup focuses on estimating opioid prescribing based on best practices and on actual prescription fills.
Nesbit is the residency director for the PGY2 Pain and Palliative Care Pharmacy Residency at The Johns Hopkins Hospital. In addition to receiving a Bachelor of Science in pharmacy from ONU, Nesbit earned a Doctor of Pharmacy from Ohio State University. During her visit to ONU, Nesbit delivered the 10th annual Sebok Pharmacy Lecture, "Opioid Stewardship: Opportunities and Obligations."
Joel M. Weaver began his career in community pharmacies while working toward his Doctor of Dental Surgery and then completed a four-year National Institute on Dental Research-sponsored residency in anesthesiology. Weaver joined the faculty at Ohio State University and maintained a dual appointment in the College of Dentistry and in the Department of Anesthesiology in the College of Medicine, where he practiced as a dentist anesthesiologist in the dental clinic and in the hospital operation rooms for 39 years. Weaver is the founding director of OSU's master's degree residency program in dental anesthesiology, which is currently a three-year accredited program.
Weaver has received numerous awards, including the Postle Teaching Award from the OSU College of Dentistry and teacher of the year from OSU's medical anesthesiology residents and twice from the student nurse anesthetists. He has also received the Ohio Dental Association's achievement Award for Outstanding Service, the Distinguished Service Award from Ohio State University, and the OSU College of Dentistry Distinguished Alumni Award. In addition to receiving a Bachelor of Science in pharmacy from ONU, Weaver earned a Doctor of Dental Surgery from Ohio State University. He also earned a Ph.D. from OSU's College of Medicine's Department of Pharmacology, where he received the Chauncy D. Leake Prize in Pharmacology for Outstanding Achievement.