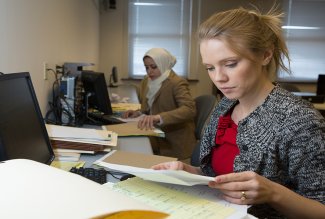 The Ohio Northern University Pettit College of Law will celebrate the new location of the ONU Legal Clinic with an open house in the Chase Bank Tower at 121 W. High Street (suite 700) in Lima, Ohio, on Tuesday, Feb. 23, at 5 p.m.
Since the 1980s, the ONU Legal Clinic has provided free legal assistance to Lima-area residents who cannot otherwise afford legal services. While the clinic does not accept criminal cases, it specializes in areas such as domestic relations, probate, social security, consumer, government benefits and housing cases. The new clinic spans the entire seventh floor of the Chase Bank Tower, which means that ONU classes and more community events will now be held in Lima.
The ONU Legal Clinic also helps law students understand that everyone deserves access to justice and encourages students to continue to work with the underserved later in their professional careers. In addition to time spent working with clients and in court, students involved with the ONU Legal Clinic meet together on a regular basis to discuss current cases, ethical issues and more, allowing students to learn from each other and to support each other through difficult decisions.