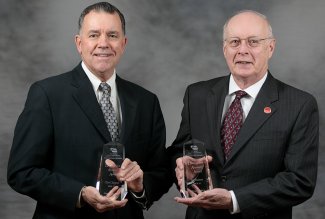 Ohio Northern University's T.J. Smull College of Engineering recently honored Chris Claypool and Lee Stockton with Distinguished Alumni Awards.
Claypool, who graduated with a Bachelor of Science in electrical engineering in 1972, is past president and current CEO of Claypool Electric Inc. in Lancaster, Ohio. Over the last four decades, Claypool has grown the company, which his father founded in 1954, into a firm that employs more than 200 skilled craftspersons, along with engineers, designers, project managers and administrative staff. The company designs, builds and maintains electrical systems for manufacturing facilities, commercial establishments, educational facilities and universities.
Claypool, a licensed professional engineer, has been actively involved in the Fairfield County community. In 2013, he was named Philanthropist of the Year by the Fairfield Medical Center Foundation. He and his wife, Barbara, have been steadfast supporters of Ohio Northern, and they were named as Life Members of the Henry Solomon Lehr Society in 2015 for their devotion to the University.
Stockton earned a Bachelor of Science in civil engineering in 1961. He spent 43 years working for Price Brothers (now Hanson Pipe and Precast) in Dayton, Ohio, retiring in 2004 as senior vice president. The company manufactures concrete products for bridges, pipelines, culverts, sanitary sewers, and floor and roof systems. During his career, Stockton specialized in quality control, product design, research and development, product promotion, sales, field service, and international marketing. He traveled across the United States and the world, including China, North Africa, South America and South Korea.
Stockton has been active on American Society of Civil Engineers and ASTM committees dealing with the design and installation of concrete pipe. He and his wife, Shirley, have been strong supporters of Ohio Northern through the sharing of their time, insights and resources. In 2016, they were recognized as Life Members of the Henry Solomon Lehr Society.
Established in 2010, the T.J. Smull College of Engineering Distinguished Alumni Award recognizes those who have distinguished themselves through outstanding personal qualities and significant contributions to his or her chosen field. To be eligible for the award, an individual must be a graduate of Ohio Northern in engineering or computer science; be distinguished in his or her profession, business or other worthy endeavor; have received recognition from his or her contemporaries; have made significant contributions benefiting his or her community, state, nation, the University or the college; and be a person of such integrity, stature and demonstrated ability that the faculty, staff, students and alumni of the college will take pride in and be inspired by his or her recognition.