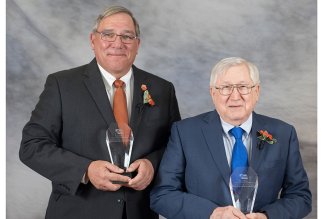 Ohio Northern University's T.J. Smull College of Engineering recently honored Charles Leader and Daniel Walker with Distinguished Alumni Awards.
Leader, who graduated with a Bachelor of Science in mechanical engineering in 1960, founded Leader Engineering Fabrication in Napoleon, Ohio, in 1984 with six employees in a 6,000-square-foot facility. The business has since expanded to occupy a 24,000-square foot office and manufacturing facility that includes 36 employees. The company designs solutions and machines for companies across the United States, Europe, Asia and Australia.
To put an end to alignment delays during the traditional flexographic printing process, Leader developed the Leader Vision Center Mount System, a device for which he holds a patent. Created in 1989, this fully automated digital system is easy to operate and delivers quick and precise mounting.
In addition to the mount system, Leader Engineering Fabrication specializes in die-casting equipment, food-processing equipment, and custom machine design and production for automakers and tier-one automotive suppliers. Past and current clients include General Motors, Ford, Chrysler, Hyundai, Kia, Toyota, BMW, Mercedes-Benz, Navistar, Caterpillar and The Toledo Zoo.
Throughout his business career, Leader's business model and guiding philosophy are the "Golden Rule" and treating others as he would like to be treated.
Leader was raised on his family's farm near McComb, Ohio, and graduated from McComb High School. He served in the Army from 1952 to 1954, repairing helicopter and L19 aircraft engines.
Leader's first job after graduation from ONU was with General Electric in Circleville, Ohio, from 1960-64. He next joined the Campbell Soup Company in Napoleon, Ohio, from 1964-69, before a long stint with the Gilson Screen Company in Malinta, Ohio, from 1969-84.
Walker, who graduated with a Bachelor of Science in civil engineering in 1971, is president of Kokosing Industrial in Westerville, Ohio. Over the past 40 years, Walker has built an impressive engineering career at Kokosing, which is one of the largest contractors in the Midwest, with more than $1 billion in annual revenue. Kokosing Industrial is a self-performing contractor that focuses on projects in oil and gas, power, industrial, marine, water and wastewater, commercial, and heavy civil.
In his work, Walker has managed hundreds of people and overseen complex projects both large and small, from power plants to gas-processing plants, from power-transmission facilities to municipal water and wastewater projects. Walker's leadership style is honest and straightforward. He surrounds himself with great people, sets a positive example and gives his people every opportunity to succeed.
In addition to strategic planning, project selection and employee development, Walker's leadership role includes making sure he creates a safety culture that leads the industry. It's a responsibility he takes seriously and reflects the care he has for every individual who works for him.
Walker has been a strong supporter of ONU for many years, providing insight and assistance on matters related to facility planning and construction. He was an original member of the College of Engineering Advisory Board and currently serves as the vice chair of the ONU Board of Trustees. He received his MBA from Xavier University.
Established in 2010, the T.J. Smull College of Engineering Distinguished Alumni Award recognizes those who have distinguished themselves through outstanding personal qualities and significant contributions to his or her chosen field. To be eligible for the award, an individual must be a graduate of the T.J. Smull College of Engineering; be distinguished in his or her profession, business or other worthy endeavor; have received recognition from his or her contemporaries; have made a significant contributions benefiting his or her community, state, nation, the University or the college; and be a person of such integrity, stature and demonstrated ability that the faculty, staff, students and alumni of the college will take pride in and be inspired by his or her recognition.