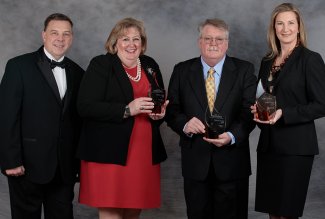 Ohio Northern University's Dicke College of Business Administration recently honored three graduates with Pinnacle Awards.
The award, which honors individuals who have made the highest commitment to the business college, was given to Judy (Monastra) Davis, a 1981 ONU graduate; Anmarie (Gladieux) Kolinski, a 1994 ONU graduate; and Deann Fishpaw Newman, who graduated from the university in 1983. All three earned a Bachelor of Science in Business Administration.
Davis, who passed away in November 2016, graduated from the University with high distinction, earning a BSBA in marketing. While an ONU student, she was active with the debate team, Model UN, Student Senate and Northern Review. She also was a member of Alpha Xi Delta sorority. She was inducted into several honor societies.
In her professional career, Davis served as executive vice president and chief legal officer for BlueCross Blueshield of South Carolina, joining the company in 1995. Previously, she was with Lincoln National Corporation of Fort Wayne, Ind.
Davis was an active alumna of the University, returned to campus in 2013 to deliver the Carroll V. Lovett Distinguished Lecture and participated in the "Finding Your Voice" Leadership in the Workplace event.
Kolinski graduated from Ohio Northern in 1994 with degrees in both accounting and English, both with high distinction. As a student, she was a member of the varsity volleyball team and several honorary societies for academic achievement.
She currently serves as executive vice president and chief financial officer for Harbor Capital Advisors; she has been with that company since 2005. Prior to joining Harbor Capital Advisors, she was with Ernest & Young LLP in Toledo for 10 years.
Kolinski has been actively involved with her alma mater. She currently serves as chair of the Dicke College of Business Administration Advisory Board; she has been a member of the board since 2010. She also has hosted students in Chicago as part of the Executive Classroom course for the past five years and has regularly spoken to students in finance classes. Kolinski is a member of the University's Lehr Society, ONU's premier recognition society for donors.
Newman graduated from Ohio Northern in 1983 with a degree in accounting and later received her Juris Doctor from Wayne State University. While at ONU, she was a member of the Business and Economics Club, Kappa Phi women's service organization, Student Planning Committee, and several honorary societies.
She serves as a tax partner and U.S. compliance leader with Deloitte. Newman's focus has been mainly on working with multinational corporate organizations.
Newman has remained connected to ONU, serving on the Dicke College of Business Administration Advisory Board since 2009. She also regularly speaks to students and interacts with them through senior capstone projects in addition to actively recruiting several students to Ohio Northern.
The names of this year's honorees will be added to a fabricated sculpture on the ground floor of James F. Dicke Hall. The contemporary display, constructed of copper, aluminum and stainless steel, stands as a public and enduring testament to the individuals who have reached a pinnacle in their generosity and service to the college.