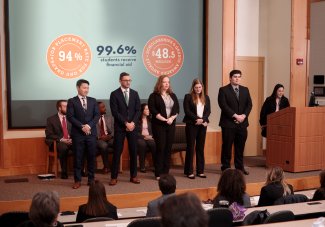 AT THE END OF YOUR TIME IN THE DICKE COLLEGE OF BUSINESS ADMINISTRATION, YOU'LL BE FULLY PREPARED FOR THE WORKFORCE.
You'll see: It'll all be worth it.
How do we know? Let's consult the experts.
ONU has been ranked by career-guidance site Zippia as the most likely college or university in the state of Ohio (and third in the nation) to place its graduates into a job. You read that right: ONU is the best college in Ohio for getting a job.
And then there's a study published by The New York Times that ranks ONU second out of all 76 colleges in Ohio, 10th nationally out of 578 national selective private colleges, and 84th out of all 2,137 colleges in the U.S. for "median student income at age 34."
We've also caught the eye of PayScale, a website that tracks and analyzes salary and compensation information. PayScale ranks ONU No. 8 in Ohio for salary potential and in the top 12 overall in the state for return on investment.
College is an investment in your future – and we've seen some of the highest returns on investment in the entire state. The five-year average salary for business alumni six months after graduation is $45,704.
That's the true value of becoming a Polar Bear.