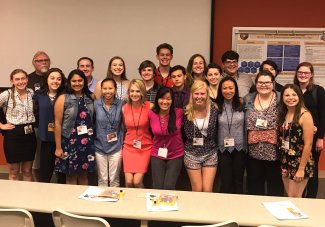 ONU SUMMER PHARMACY CAMP INTRODUCES FUTURE STUDENTS TO LIFE AS A POLAR BEAR
Each summer, Ohio Northern University's Summer Academic and Honors Institute (SAHI) offers high school students the opportunity to learn from expert faculty in state-of-the-art facilities alongside high-achieving peers who share their same interests. In short, they get a taste of what it's like to be an ONU student. It's no wonder that many campers decide to attend ONU for college.
Over the span of three weeks, SAHI offers a series of one-week camps for students interested in art and design, astronomy, physics, chemistry, forensic science, human histology and anatomy, molecular ecology, pharmacy, cryptography, content creation, theatre, and criminal justice.
Even though the camps last just one week, the immersive environment enables students to learn the ins and outs of each field. In the pharmacy camp alone, campers learn drug modeling, design and development; work in a compounding lab; visit multiple pharmacy settings; perform research on drug information; and learn about the expanding role of pharmacists in patient care, assessment and counseling – all under the guidance of experienced ONU faculty and health care leaders in the area.
"Pharmacy camp at ONU was basically all six years of pharmacy school boiled down into one week," says third-year pharmacy student Dylan McWilliams, who attended the camp in 2017. "We learned so much about all the different types of pharmacy, and that is what drew me to the college. Each day was something new."
In addition to the educational aspects of camp, the social environment campers enjoy plays a role in why ONU's pharmacy camp is so successful at attracting future students. Even with only a small fraction of the students who call ONU home the other eight months of the year on campus, ONU's legendary family atmosphere was still on display.
"I came to ONU because of this camp. I got to see the type of people on this campus, and I got to talk to faculty. The way the professors cared for their students was something that stuck with me. I learned quickly that they truly do care for their students' success. They don't want us to fail, and if we do, they are there to help us," says McWilliams.
Second-year pharmacy student Madeline Scarfo attended a pharmacy camp at another university before ONU's, and she noticed a difference right away.
"After coming to this camp, I realized that ONU was the place for me. Every camp counselor had nothing but good words to say about ONU. They were all helpful when I had questions about professors and the curriculum. Even to this day I still communicate with my counselors about questions that I have," she says. "The other camp I went to wasn't nearly as fun, and there was no family atmosphere or help when it came to questions or a conversation."
While some students like Scarfo realize early on that they want to be pharmacists, the camp can also help students finalize their career goals.
"I wasn't completely set on pharmacy until I did this camp. I was thinking about physical therapy, but camp showed me that I'm a better fit for pharmacy," says third-year pharmacy student Maggie Biltz.
In the end, any college or university camp experience is a glimpse into a larger world. At Ohio Northern, that glimpse is often enough for many students to make what is likely the biggest decisions they have made in their lives to that point. Fortunately for them, the glimpse is also a pretty accurate depiction of what they will experience for the next 5 years on campus as they pursue their PharmD degrees.
"Pharmacy camp at ONU is where I really solidified my desire to pursue pharmacy as a career and make ONU my future home," says third-year pharmacy student Sara Bockelman. "It gave me a taste of what pharmacy school, college and being away from home was like."