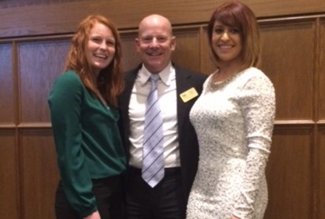 Two students from Ohio Northern University's James F. Dicke College of Business Administration were recognized for their outstanding accomplishments at the Financial Executives International (FEI) Toledo Chapter Student Awards Night in Perrysburg, Ohio, on Nov. 12.
Ellie Schmalzl, a senior accounting major from Walton, Ky., and Kaitlyn Cook, a Master of Professional Practice in Accounting (MPPA) candidate from Youngstown, Ohio, were among 14 students honored at the event. The two ONU students were each presented a $500 award check from James Jaros, president of the FEI Toledo Chapter. The students were introduced at the ceremony by Dr. Dong Hyun Kim, assistant professor of finance.
Schmalzl, the recipient of FEI's undergraduate award, has served as vice president of the Fellowship of Christian Athletes, treasurer and social media chair of the ONU Dean's Advisory Council, a Beta Alpha Psi and President's Club member, and a peer mentor in the College of Business Administration Mentorship Program. In addition, Schmalzl is on the varsity women's soccer team at ONU, is the student ambassador for the Becker CPA Review firm, and is involved in many other organizations on campus. Schmalzl has earned a 4.0 GPA in her undergraduate career.
Cook, the recipient of the FEI graduate/master's award, works as a full-time accounting associate at HBK CPAs & Consultants in Alliance, Ohio, while balancing her MPPA studies. She graduated summa cum laude from the University of Mount Union in May 2015. During her undergraduate career, she was very involved in the academic tutoring department, the Accounting Club, Tau Pi Phi and Alpha Delta Pi. Cook began her involvement with FETCH, a volunteer program hosted by the Ohio Society of CPAs that teaches elementary-aged children the importance of financial literacy, while at Mount Union and continues to volunteer today. Cook received the Hubert R. Pinney Award during her senior year at Mount Union for obtaining the highest overall GPA in the business department.
Financial Executives International is a professional organization for senior financial executives, which represent over 15,000 individuals worldwide. The FEI "is the leading voice on behalf of corporate financial executives, actively engaging the FASB, IASC, SEC and legislators in dialogue to represent the viewpoints of [its] membership." To qualify for the annual award, an accounting or finance student must demonstrate a "high level of academic achievement and intellectual honesty, and [must possess] high promise for a successful career in business."