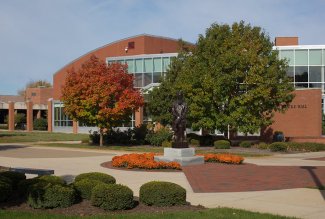 A paper presented by Ohio Northern University student Alexander Klouvas, a junior accounting major from Fort Wayne, Ind., and Dexter Woods, professor of business administration, won the award for the outstanding paper published in the proceedings of the Midwest Academy of Legal Studies in Business as part of its recent annual conference in Chicago. The paper was titled "Me-Too Evidence in Age Discrimination in Employment Cases: The Progeny of Sprint v. Mendelsohn."
Researching and writing the paper allowed an in-depth study of employment law. In 2008, the United States Supreme Court considered whether courts in employment-discrimination cases should admit or exclude me-too evidence, i.e., testimony by other employees that the defendant employer also discriminated against them. The court unanimously decided against an automatic rule of admission or exclusion and held that courts should admit or exclude me-too evidence depending on the circumstances of each case.
Klouvas graduated from Homestead High School.
The faculty and student authors researched the hundreds of cases citing Sprint since 2008 to review and summarize how the courts have subsequently dealt with me-too evidence in age-discrimination cases.
The experience was also very relevant for Klouvas' academic and future career aspirations as he plans to attend law school after graduation.
"To study law is a quest to discover how to relieve injustice not only in situations of black-and-white, but also in situations of gray," Klouvas said "Coauthoring this paper with my professor has given me a greater understanding of the inherent legal complexities present in most, if not all, cases. Our paper required ample case research and thorough case analyses to establish the nexuses between and trends in successful employee age-discrimination lawsuits. Constructing this paper has been not only an important learning experience, but also a catalyst for my desire to always succeed for my future clients."
Woods said, "Alex plans to go to law school, so researching cases, writing case summaries and learning case-citation form all should be useful for him. He also enhanced his abilities to analyze and draw conclusions from a large number of cases involving similar subject matter. As a side benefit, he picked up a very good understanding of the steps in a lawsuit and of the basic concepts of employment-discrimination law."
"Additionally, he got good practice in preparing slides and in giving a formal presentation in front of professionals. Just as important is that he had the opportunity to travel to Chicago, which he had not done before. Of course, faculty members such as myself tremendously enjoy introducing our students to all of these new professional and cultural experiences."