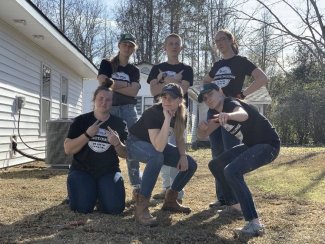 This January, prior to classes resuming for spring semester, a group of 15 Habitat for Humanity volunteers from Ohio Northern University traveled south to South Carolina to do more than build a house. They went to help revitalize a neighborhood.
The Wall Street neighborhood of Moncks Corner, S.C., has been left behind even as the town has enjoyed rapid growth. Since 2010, the population of the community north of Charleston has grown by a third, yet the roofs of homes in Wall Street cave in and kitchen floors sag under the weight of generational poverty and public indifference.
The Habitat for Humanity affiliate in Berkeley County, S.C., has seen enough in Wall Street to intervene on behalf of the 125 families who still call this area home. Instead of just building one home as Habitat volunteers typically do, they are trying to rebuild an entire community. Neighborhood revitalization involves a fairly straightforward but often challenging process, requiring tenacity and long-term commitment. The Berkeley County affiliate began by making a statement. Instead of starting with a single home, they turned an old empty store into a community center to give the youth in the area a positive place to go after school, on weekends and during the summer.
"Moncks Corner has been hit really hard the past couple years. There used to be a lot of crime throughout the area, a lot of civil unrest," says junior construction management major Tyler Nason. "The community revitalization that is happening there is a new model that Habitat is trying to do."
As ONU Habitat for Humanity winter trip coordinator, it was Nason's job last fall to pick the location for a January service trip scheduled for Jan. 5-11, 2020. The 2019 winter trip was also in Moncks Corner, and it was an easy decision to return there to continue working toward such an ambitious goal.
"Seeing the old houses in some of these areas is shocking," says senior criminal justice major Hailey Green. "On our trip last year, we helped tear down an abandoned house and salvage what building materials we could. We were taking down the roof, and we were afraid we were going to fall through it. The house was built in 1909, and it looked like it. The kitchen floor had this severe slope, and the Habitat coordinator who was on site with us told us that someone was living there just a month before. To know that someone does not have the capability to leave that situation is so eye-opening."
This year, ONU Habitat's plans were to frame a new home that was being built next door to the house they tore down last year. Unfortunately, due to heavy rain and flooding in the weeks prior, the concrete slab wasn't able to be poured in time, so they spent one day working at the Restore in Berkeley County and the remaining days in Moncks Corner doing finishing work on a three-bedroom, two-bath home that was set to be inspected and turned over to the family in just a matter of weeks.
The ONU volunteers installed kitchen cabinets, painted the interior, installed trim and sodded the yard in the span of four days. Thanks in large part to their hard work, the house was certified for occupancy by the county on their last day on site.
"It's enjoyable to get to see that," says Nason. "It's one of those things where you get to see a change to someone's life created right in front of you. If you donate money to a charity, you never see the end result. But with Habitat you see the impact your time and effort has on someone's life right now. And you know that this change is also providing them a foundation for future success as well."
For Green, the trip held extra significance because it afforded her the opportunity to see firsthand the living conditions that can contribute to crime. "When Habitat talks about rebuilding the community and doing community revitalization, that means a lot to me as a criminal justice major because we know that if you have a community center, and you have a place for kids to go, and you have stable homes for them, they are so much less likely to get into crime and gangs and things like that. Habitat is helping that by making sure that kids have a place to go so they don't have to get in bad situations because they have nothing else to do."
ONU's Habitat chapter will next travel to Valdosta, Ga., at the end of February for a spring break service trip. They typically travel south to escape the cold Ohio winter, but these experiences do help students realize the struggles people in our own communities face as well.
"In your own area, you kind of get blinded to the needs of others and the needs of the area because you see it every day," says Nason. "So being able to go down to a place and see the devastation and lack of livable housing, and have a firsthand experience in changing that, when you come home your eyes are reopened. You see the problem and you can finally ask, 'How can we change it? How can we do what we did down there, right here at home?'"
Follow ONU Habitat for Humanity on Twitter at @ONU_H4H for posts from their spring break trip Feb. 29 - March 7, 2020.