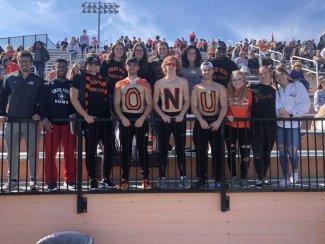 The #LehrCup social media challenge is bringing ONU Athletics together
Photo courtesy of Emily Norden
Ohio Northern University is known for its quality athletics, but there's so much more to our student-athletes than just their athletic performance. This fall, students launched the Lehr Cup, a new kind of athletic competition that focuses on bringing student-athletes together through cross-athletic-team support.
Run by the ONU Student-Athlete Advisory Committee (SAAC), the Lehr Cup is a competition in which student-athletes earn points for their team on the basis of their support for other ONU athletic teams (in person and through social media), team GPA, athletic team finish in the Ohio Athletic Conference standings, community service, Polar Bear Club participation, and SAAC meeting/speaker series attendance. All ONU student-athletes participate in the year-long competition, and the first winner will be named on June 1, 2020. The vision is for the Lehr Cup to become an annual competition that lasts for years to come.
The inspiration for the Lehr Cup came from Chelsea Huppert, a pharmacy major and ONU volleyball player. She borrowed the idea from a similar competition her brother participated in at the University of Indianapolis, and subsequently spearheaded the creation of the Lehr Cup, drafting the rules and pitching the idea to ONU Athletic Director Tom Simmons in fall 2018.
From there, the idea quickly snowballed, and the SAAC provided the resources Chelsea needed to bring it to life. Huppert and Jimmie Walkinshaw, a mechanical engineering major and ONU men's soccer player, were appointed coordinators of the Lehr Cup, and Scott Beaton, a sport management major and ONU baseball player, handles the competition's promotion on social media.
As evidenced by the Tweets below, the Lehr Cup has taken on a life of its own.
It's been a wild but fun ride for Huppert, who is both honored and inspired by how her idea has come to embody the spirit of ONU Athletics. 
"This competition has shown how much of a family Polar Bear athletics truly is," she says. "The student-athletes make up a good chunk of our student population, and having their support at games means so much to the student-athletes on the court, field, track, etc. The Lehr Cup gives a platform for student-athletes to promote what they've already been doing, and as the creator of the competition, it's so cool to see that come true."
You can follow the current Lehr Cup standings on Twitter @ONU_SAAC and check out more Tweets using the hashtags #BearsSupportingBears and #LehrCup.
@OhioNorthernFB had a great time watching @ONUVB #LehrCup #BearsSupportingBears pic.twitter.com/Nhs0nnVWqI

— Austin Eick (@EickAustin) August 30, 2019

@ONUSoftball had a blast watching @ONUVB KILL it tonight! #LehrCup #BearsSupportingBears pic.twitter.com/SEyp4YVzp2

— Ashlie (: (@_ashliemiller_) August 30, 2019

@ONUMTennis cheering on the bears and watching two high quality d3 volleyball matches @ONUVB #LehrCup #BearsSupportingBears pic.twitter.com/oLMlH0VyVf

— Zach Beaschler (@beaschler18) August 31, 2019

@Onuwomensbball had a blast supporting @ONUVB earlier today! #LehrCup #BearsSupportingBears pic.twitter.com/gQ3n31xulm

— ONU Women's Bball (@Onuwomensbball) August 31, 2019

@ONU_Soccer out supporting @ONUWS_BAC against Wheaton today! #LehrCup #BearsSupportingBears pic.twitter.com/44px1HaK0Y

— Dan Waldmann (@daniel_waldmann) September 7, 2019

ONU T&F @DOCMausXCTRK supporting @OhioNorthernFB at their game today! #LehrCup #BearsSupportingBears pic.twitter.com/BdQtNwvX5U

— Sel Adehe 🇬🇭 (@kwame_Adehe) October 26, 2019

@onu_wrestling out here to watch @ONUWS_BAC take on Calvin! #LehrCup #BearsSupportingBears pic.twitter.com/Y8ySpomGOP

— ONU Wrestling (@onu_wrestling) September 14, 2019

Vball girls showing some love for our @ONU_Soccer last night!!! Big Win!! #lehrcup #bearssupportingbears pic.twitter.com/kVxxLYIyE0

— ONU Vball (@ONUVB) September 7, 2019

@ONUBaseball supporting @ONUWS_BAC this afternoon! #BearsSupportingBears #LehrCup pic.twitter.com/yXiuG2Z9jx

— Scott Beaton (@ScottBeaton) September 14, 2019

@ONUWS_BAC supporting @ONU_Soccer earlier today against Calvin!! #Lehrcup #bearssupportingbears pic.twitter.com/iBcFEgYRd6

— Anne Major (@AnneMajor18) September 8, 2019

Polar Bears taking a dip @ONUSwimandDive Making a splash #LehrCup #Bearssupportingbears @ONU_SAAC pic.twitter.com/pRaYK07bhq

— Ohio Northern Golf (@PBGolfnation) October 26, 2019