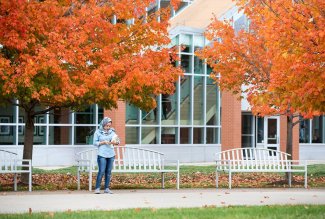 R. Michael Prescott of Mason, Ohio, president of U.S. Bank's Cincinnati market, was recently inducted as an honorary member of the Beta Alpha Psi accounting and finance honorary at the Ohio Northern University James F. Dicke College of Business Administration.
Prescott, who earned a bachelor's degree with high distinction in accounting from Ohio Northern in 1984, is responsible for the bank's activities and commercial-lending efforts in the Cincinnati region. He also has market responsibility for Florida; North Carolina; Nashville, Tenn.; Louisville, Ky.;. and Saint Louis, Mo.
Previously, Prescott served as executive director of the Ohio Tuition Trust Authority, where he was responsible for all aspects of Ohio's 529 plan. Before that, he was a member of Huntington Bank's executive team.
He is currently a member of the board for 3CDC, the Cincinnati Business Committee, United Way, ArtsWave, the Cincinnati Chamber of Commerce, and the Medical Center Fund of Cincinnati. He also is a member of the board of managers for the Cincinnati New Markets Fund.
Prescott earned an MBA, with a focus on finance and marketing, from Ohio State University.
"Michael is an exceptional example of an alumnus who reinforced his values while attending ONU. He has lived those values throughout his career while making an impact on those around him," said Matthew Phillips, associate professor of accounting in the ONU Dicke College of Administration and advisor to Beta Alpha Psi. "It is very apparent that Michael lives a values-driven life in both his professional and personal pursuits."
Phillips is the Roger Young Endowed Professor in Accounting at Ohio Northern.
Founded in 1919, Beta Alpha Psi is an honor organization for financial information students and professionals. There are more than 300 chapters on college and university campuses with more than 300,000 members initiated since the honorary's founding.
Students who were inducted as members or recognized as a pledge at the recent ceremony include:
Student Inductees
Kelsey Dorfmeister - Sophomore
Brenden Hadley - Junior 
Benjamin Hood - Sophomore
Mckenna Hostetler - Junior  
Ryan Kelley - Sophomore
Megan Kerr - Junior  
Jonathan Ketchel - Sophomore
Trenton Kramer - Junior
Corbin Markwood - Junior
Kyle Neff - Sophomore
Edward Nieszala - Sophomore 
Martrina Parks - Sophomore
Ian Pennino - Sophomore 
Brian Ruffini - Junior
Student Pledges
Samantha Arnold - Sophomore
Kaleigh Cummins - Sophomore
Ian Fogle - Sophomore
Kevin Giles - Junior
Hailey Green - Junior
Brandon Grisby - Sophomore
Steven Manns - Sophomore
Frank Ramirez - Sophomore
Jennifer Schatzer - Senior
John Sternasty - Sophomore
Troy Wagner - Junior