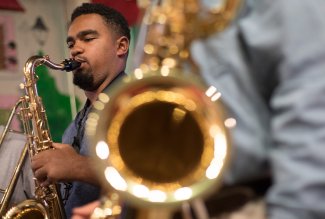 Jazz culture is blooming at Ohio Northern University thanks to weekly jam sessions that expand learning opportunities for students in settings that extend beyond the classroom. A jam session is an informal gathering of musicians who play and improvise together, especially in jazz or blues, using no music and literally improvising "on the fly" as they play.
At ONU, jam sessions are run by Gene Parker, adjunct professor of jazz at Ohio Northern. "Many universities have jam sessions," he said. "They usually happen at area restaurants or bars. It channels business to these places while providing music and bringing together friends and family. It's really a win-win situation."
Jam sessions occur on Thursday evenings from 6:30 p.m. to 8:30 p.m. at El Campo restaurant in Ada. The band usually consists of Parker and his students and, sometimes, other professional musicians in addition to Parker.
According to Parker, jam sessions have created a jazz culture at ONU that didn't exist previously. "Jam sessions are very important. They're like labs or co-ops for musicians. They allow new musicians to build networks, find gigs and form bands. Students can find new teachers, and professionals can see students with potential. We try to bring in professionals from other places, like New York, just so students can play along with the big cats. It's all very important: You have to stand on the backs of giants to learn."
For Ohio Northern, the idea of jam sessions didn't come into the picture until recently. "This is our fourth year doing it," Parker says. "When I first came to ONU, there wasn't much interest in jazz. The University didn't understand the need for jam sessions. So, we were very lucky to be able to start having them."
"Traditionally, jazz was on the streets," Parker said. "You learned the etiquette for performing by watching others. If you didn't know a tune, you asked, and you met people through asking. You listened to different interpretations of tunes, and you built your repertoire."
ONU students have also found jam sessions to be important. "The easiest way to learn jazz is by being on the job," said Jarrett Barr, a senior music performance major from Elida, Ohio. "You normally don't get the opportunity to be on a gig like this. But with jam sessions, you're in a situation with professionals, and you get to share ideas. That's how we grow."
"It's a space where students are equal to the professor," said Ross Grilliot, a senior political science and music double-major from Perrysburg, Ohio. "Gene plays with us; we support each other and build off one another. It's a real-world environment where we can take what's learned in the classroom and apply it. We can pursue jazz in a different way. Historically, jazz was learned through playing, not taught in a class, and learning it this way is more realistic."
"It's a real test of your musicianship," said Alex Chapman, a senior music education major from Westerville, Ohio. "You have to get over your fear and try your hardest. You have no other option. That's what it's like in the real world. Jam sessions make you more confident. You have to practice, but you should try it. What's the worst that could happen? You can get a little better; you can learn something."
Along with running the jam sessions, Parker gives private lessons to students, and he teaches jazz studies, theory and history to various students in the region.