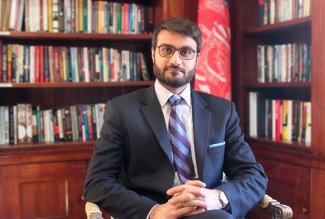 Hamdullah Mohib, Ph.D., Afghanistan's ambassador to the United States, will speak at 7:30 p.m. on April 12 in the large moot court room (room 129) in the Ohio Northern University Pettit College of Law. His talk, "The current state of Afghan-U.S. relations," is free and open to the public.
Mohib has served in his current role since September 2015. He also serves as non-resident ambassador to Mexico, the Dominican Republic, Argentina and Columbia.
According to his biography, Mohib has focused on redefining Afghanistan's narrative in the United States to reflect the new realities of the country as a young democracy moving steadily on a path to prosperity and peace as a result of the social change and institutional development that has taken place over the past 16 years.
As ambassador, Mohib has focused on highlighting the critical yet under-credited role of cultural and peace initiatives, women and youth in re-creating Afghanistan. To this end, his priorities have included engaging with the Afghan diaspora across the United States; elevating the efforts of Afghan women toward social, political and economic development; engaging with active U.S. military and veterans who have served in Afghanistan; and implementing a comprehensive cultural and public diplomacy initiative within U.S. schools, universities and local organizations.
Before being appointed ambassador to the United States, Mohib served as deputy chief of staff to the president of the Islamic Republic of Afghanistan. The role included oversight of the spokesperson's office, the office of correspondence and diplomatic communications, protocol office, petitions office and the presidential secretariat.
Mohib earned a Ph.D. and bachelor's degree with honors from Brunel University in the United Kingdom. The university honored him with an award for social and cultural contributions to campus and a research scholarship to pursue a Doctorate of Philosophy. Before joining the government, Mohib worked for the American University of Afghanistan and Intel Corporation.
Mohib has been an active leader in civil society among the global Afghan community. He founded the largest Afghan diaspora youth association in Europe, the Afghan Students Association of the UK. He also founded and served as chairman of the board for the Afghan Professionals Network (APN). As part of APN, he started a think tank, "Discourse Afghanistan," and initiated community service programming to support special needs orphans in Kabul as well as recognize achievements of Afghan women.
Ohio Northern University's LLM in Democratic Governance and Rule of Law program has graduated more than 20 Afghan lawyers over the past six years and will award the LLM to 10 more at its commencement in May. The ambassador will meet with the Afghan students during his visit to campus.