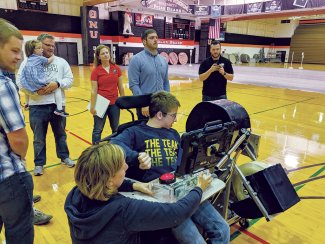 Capstone project makes playing basketball a reality for young man with cerebral palsy
Plenty of 14-year-olds have dreams of playing basketball at the highest level, hitting buzzer-beater threes and dunking over opponents. But some children — particularly those with disabilities — only ever get to play basketball in their dreams. 
James Falahee, a young man living with cerebral palsy, had his love of basketball relegated to watching from the sidelines until a team of Ohio Northern University engineering students turned their senior capstone project into a mission to get him out on the court. 
Then-seniors Carly Waugh, BSME '19, Nick Cordell, BSME '19, Jacob Russell, BSME '19, Cody Clayton, BSME '19, and Cam Jenkins, BSME '19, set out to design and build a device that would allow James to finally shoot baskets, something his limited muscle and fine motor control made impossible. The end result was a wheelchair-mounted system with mechanics similar to a pitching machine that launches basketballs instead of baseballs. A joystick gives James control of the pan and tilt of the device to aim, and a slider mechanism allows him to apply varying degrees of force. Once he has his controls dialed in, all James has to do is smash the big red FIRE button and swish — nothing but net.
The capstone was the latest project in which ONU students focused their considerable talents toward building something that not only solves a problem, but also brings a smile.
In spring of 2017, Dr. Todd France, assistant professor of engineering education, led an Engineering Projects in Community Service (EPICS) project to adapt existing commercially available toys to match the capabilities of children with special needs. One of the toys had an indented power button that required a certain degree of fine motor skill to press. The students rewired the electronic device to start up via a tap light, a domelike backlit button that is more stimulating and easier for a special needs child to activate. The class also created busy boards, a type of stimulation tool for special needs children with various curiosities for the child to fidget with, such as a spring doorstop, lock or handle.
In the College of Engineering, designing with purpose is key to the educational mission. 
Engineers have a powerful opportunity to impact the world. The National Professional Society of Engineers, an umbrella organization over the various professional societies, has a code of ethics that guides the engineering profession. Included in the code is a directive that "engineers shall be guided in all their relations by the highest standards of honesty and integrity" and "shall at all times strive to serve the public interest."
"Beginning in the first-year engineering experience with the Foundations of Design course, we talk intentionally about the role of the engineer and our responsibility to leave the world better than we found it," says Dr. Blake Hylton, associate professor of mechanical engineering. "It's a mindset that our students tend to buy into with enthusiasm, demonstrating that eagerness to do good in everything from designing occupational therapy boards as freshmen to building wheelchair basketball launchers as seniors."
For James, playing basketball is now a reality, and while he may never be a "splash brother" like NBA stars Stephen Curry and Klay Thompson, thanks to his friends at ONU and his big red button, he has already become quite the smash brother out on the hardwood.