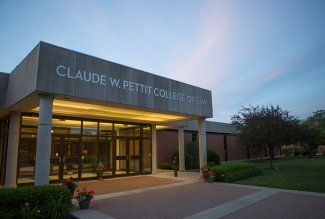 The Ohio 3rd District Court of Appeals will hear oral arguments at Ohio Northern University's Pettit College of Law on March 27 at 10 a.m. in the Large Moot Court Room.
The Ohio 3rd District Court of Appeals judges include the Hon. John R. Willamowski, the Hon. Vernon L. Preston, the Hon. Stephen R. Shaw and the Hon. William R. Zimmerman. Willamowski, Shaw and Zimmerman are ONU Law alumni.
A three-judge panel will hear two cases while in Ada. The first case, Criminal, The State of Ohio vs. Michael G. Luebrecht (Putnam County), is an appeal from a conviction of aggravated murder and the legal issue of whether the defendant was entitled to the defense of being involuntarily intoxicated by the antidepressant medications he was taking leading up to the time of the death of his child.
The second case, Criminal, The State of Ohio vs. Deandre T. Baskin (Allen County), is an appeal from convictions of aggravated burglary, abduction and domestic violence and the legal issues of whether the trial court erred in denying the defendant's request for new counsel and allowing certain evidence to be admitted during trial.
At the conclusion of the cases, the appellate judges will take questions from the audience.
The Appellate Court's special session at the College of Law is part of an educational outreach program to give students, educators and the public an opportunity to enhance their understanding of the appellate process. The Appellate Court, based in Lima, Ohio, is comprised of 17 counties and travels among them for special court sessions.
 
The event is free and open to the public; however, seating is limited.