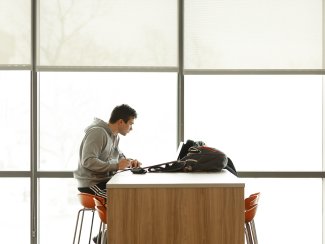 WHY IS THE CENSUS IMPORTANT TO ME?
The decennial census is both a constitutional requirement and a count that impacts the distribution of federal funds for states and communities annually. That includes money for agriculture and nutrition assistance programs, science and engineering education, special education grants to states, Title I elementary and secondary education grants to school districts, student wellness, and community mental health services. The results of the census also determine the number of seats each state will have in the U.S. House of Representatives, and they are used to draw congressional and state legislative districts.
HOW DOES COVID-19 AFFECT THE CENSUS?
In general, students in colleges and universities that have temporarily closed or have sent students home to finish the semester remotely due to the COVID-19 pandemic will still be counted at their on-campus or off-campus university address. Even if they are home with parents on census day, April 1, they should be counted where they live and sleep most of the time for the 2019-20 academic year.
Per the Census Bureau's residence criteria, in most cases students living away from home at school should be counted as living at the school, even if they are temporarily elsewhere due to the COVID-19 pandemic.
WHAT IS THE STUDENT'S RESPONSIBILITY?
If you lived on-campus in 2019-20, Ohio Northern University will complete the census for you. The census counts all our students, whether you are a US citizen or not.  Normally, every college or university is responsible for providing the Census Bureau with a total count of students living in university-run housing, which includes on-campus fraternities or sororities. ONU will submit an electronic spreadsheet of student information to the Census Bureau in place of the Individual Census Questionnaires we had originally planned to distribute in April. To remain compliant with the Family Educational Rights and Privacy Act, Ohio Northern will submit only directory information.  
Thus, students opting or mandated to leave their university housing to return home should not respond to the census. Ohio Northern University will submit an electronic spreadsheet with your directory information for you.
Students who lived in Ada or surrounding areas so they could attend Ohio Northern University should complete the census either online or by paper form using your Ada or surrounding area address. All students who live off-campus, whether they are a US citizen or not, should make sure they are counted in the census.  Students who live with others in off-campus residences should coordinate with their roommates to ensure that only one questionnaire is completed for their household. Whoever completes the census questionnaire for the household should list all roommates, including non-students, who live and sleep at that address most of the time.
WHAT IS THE PARENT'S RESPONSIBILITY?
Parents should complete the census for their household, but not include their university student if the student lives on campus in university residence halls, or if the student lives in off-campus housing near the campus.
Parents should report their university student if the student lives full-time at their residence while attending classes and does not live in university residence halls.
HELPFUL LINKS
Population Reference Bureau
Responding to the Census without a Census ID
United State Census Bureau
Census Video