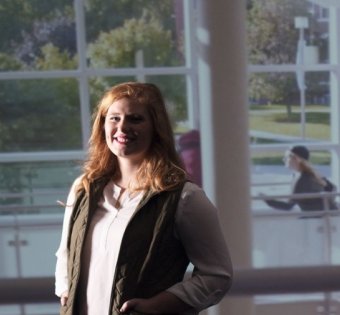 All the shots in ONU's first broadcast television commercial, "The Unexpected," required several takes to get right, and Mackenzie Zembower's scene of her running up the stairs in the atrium of James F. Dicke Hall was no exception. She found herself running up and down the stairs a number of times during filming, making for quite the workout.
"It was definitely a lot of work," she says. "I sweated a lot running up and down the stairs, but it was really cool to see my angle versus what was actually shot. When they showed me the final shot, it was completely different from what I had pictured in my mind."
Zembower was previously featured on billboards and other Ohio Northern University publications but has never appeared in a hype video before. There was an element of pride in participating, as she was proud to represent her school and her home.
"It is an absolute honor," Zembower says. "ONU has been my home for many years, even before I was a Polar Bear. I love that I am able to represent ONU and, in a tiny way, help with the recruitment of new Polar Bears."
Zembower thinks launching the hype video was a smart decision and will expose more people to the University.
"I'm really proud that the University went in this direction with their marketing," she says. "As someone who has seen the University grow for the past 14 years, I am excited for the direction that this will take us and to reach out to students that may have never heard of ONU."
Zembower also believes the video accurately represents student life at ONU because, just as shown in the video, there is never a shortage of things to do. From Baja racing to sports to metalworking, there is something for everyone.
As excited as she was to view the video for the first time herself, she is just as excited for others to see it and learn more about ONU.
"I think everyone is going to love it," she says. "I can't wait. I wish I could be in their shoes when they see the video. It's just going to be a whole new perspective for a student pursuing ONU."