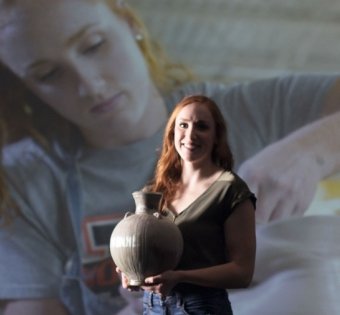 For Leah Casey, one word sums up her experience participating in ONU's first broadcast television commercial: awkward. Casey was featured creating artwork on a pottery wheel in the video, and, even though the filming didn't exactly feel natural to her, her scene in the finished product shows not a hint of awkwardness and fits well into the video's theme.
"The production was nothing like I expected," she says. "I thought the crew would just set up and record us naturally working. Instead, they re-arranged parts of the studio and directed most of our movements, which felt really awkward."
Casey initially became involved with the production when the art department asked some students to come in for filming, but she had no idea what she was in for. She had never participated in anything like this before, and she didn't know the video would be aired as a commercial when her scene was shot.
"Had I known what an involved production it would be, I probably wouldn't have agreed to participate, just out of nervousness," she says. "But I'm glad that I did, and it was a fun experience."
One of Casey's favorite aspects of the video is the high energy and excitement it exerts and how the scenes are fast-paced, something she thinks is a true representation of campus life.
"I like how it kind of jumps from one thing to another," she says. "The high energy of the video is really cool because you're always rushing from one thing to another."
Casey also appreciated how the video represented a wide range of groups from campus and had "a little taste of everything."