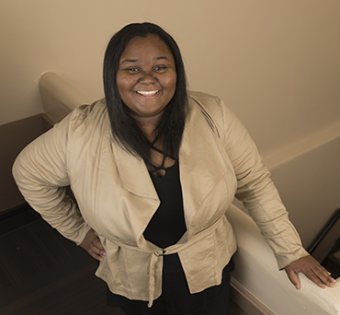 Ky'la Sims grew up in an urban industry-centered community in Michigan, but when she first came to Ohio Northern to study political science, it changed the course of her life and career.
Sims entered ONU as a freshman with junior-level credits, which meant she only had two years before she graduated – and two years to figure out what she wanted to do with her life. Taking a comparative politics course with Nusta Carranza Ko, assistant professor of comparative politics, was a turning point. The class focused on a wide array of political topics: race, human rights, terrorism, democracy. More than anything, though, Ko taught Sims how to look at things differently.
This shift in perspective changed everything. Sims earned a coveted spot in the Summer Research Opportunities Program at Purdue University for undergraduates across the country, where she worked on a prestigious research project with one of her academic idols. The experience fueled her passion for identity politics.
Being at ONU among a student demographic much different than her hometown was one of the best things for Sims. She learned how beneficial it is to surround herself with a diverse group of people.
"Diversity is important because everyone has a story to tell," says Sims. "Everyone has walked a different walk of life than I have, so being able to learn from them and to see life from a different perspective is so important to me."