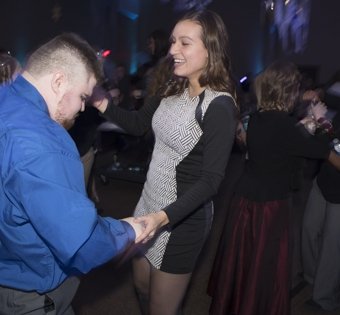 Nothing makes nursing major Kristina Flak happier than to see others happy.
Flak participated as an escort in the Lima area's Night to Shine event, a special worldwide event meant to celebrate those with special needs by giving them the classic prom experience. She and her "buddy" had a blast taking part in all the night's festivities, including dancing, photo booths and karaoke.
A sister of Alpha Xi Delta sorority, Flak felt inspired by the community service event and said the excitement and fun made everyone's elated state of mind contagious.
"It is absolutely priceless to not only see, but to feel the genuine happiness radiating from every single person in the room," Flak says. "The entire atmosphere is life changing. You think you are volunteering to simply make sure your buddy has a great night at prom, but you end up making an instant connection with these kids and having a blast."