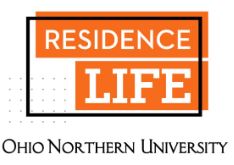 Start Date
Sunday, October 11, 2020 - 1:00 pm
End Date
Sunday, October 11, 2020 - 3:00 pm
Event Contact Name
Hannah Ray
Event Contact Phone #
4197721300
Event Contact E-mail
h-ray@onu.edu
Love Where You Live Day (LWYLD) is a service initiative developed by the Office of Residence Life to address service needs/issues on campus. Most service opportunities take place off campus and in the surrounding community. Residence Life values these opportunities, and feels service at your "home away from home" is a great way to enhance our campus community, foster a community of respect, and encourage you in developing and enhancing your #Skills4Living. Love Where You Live Day takes place every fall semester. This year LWYLD will take place on Sunday, October 11, 2020 at 1pm. This is our kick-off event for @HomecomingONU Spirit Week!  Service Projects may include learning to paint areas of campus, landscaping and fall cleanup of campus grounds, trash Removal/pickup, cleaning various residential areas, etc.  
We encourage you to participate, and any service done as a part of LWYLD may also be counted for your various service hour commitments for your major. During LWYLD, our office will work together with you to complete various service projects across campus. As a thank you for your participation we are giving you a Residence Life/LWYLD reusable cloth face mask, valued at $10 each. Please see the pictures below. 
LWYLD is in compliance with all COVID-19 policies/procedures. As a resident, you will choose your service group by signing up in groups of 4 or less with people you are comfortable being around. For instance, we encourage you to sign up with your roommate(s) and friend(s). Having you self-select your small groups will minimize/limit interactions and potential risk between residents and those outside of their group. These service projects will be small enough to accommodate a 4-person or less group and their resident assistant. These projects will be spread across campus, and will focus on our residential areas where you live. We can't wait to have you participate in these opportunities, to give back to your community and truly #LoveWhereYouLive!
To sign up for LWYLD, please fill out the form sent to the onu-alll email list. If possible, please sign up in groups of 4 or less. Signups will end at 11:59 p.m. on October 7th, meaning we are not accepting day-of signups. This is to ensure all projects and groups sizes are in compliance with our COVID-19 plan.