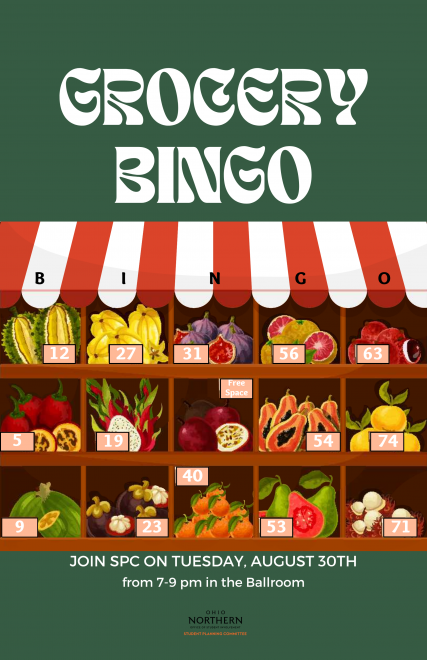 Start Date
Tuesday, August 30, 2022 - 7:00 pm
End Date
Tuesday, August 30, 2022 - 9:00 pm
Event Contact Name
Maya Stahl
Event Contact Phone #
4192684909
Event Contact E-mail
m-stahl.4@onu.edu
Hey Polar Bears,
Are you looking for something fun to do Tuesday 8/30? Do you like playing BINGO? Do you like winning free groceries for your dorm or apartment? If you answered yes to any of these questions, SPC has the event for you!
Tuesday, August 30th, starting at 7pm in the Mac Ballroom, we are hosting "Grocery BINGO"! This event was so popular last semester that we decided to bring it back so come out with your friends, play and win, there's nothing better than that! 
Some of the prizes include:
Snacks, mac and cheese cups, soup, box dinners, toilet paper, laundry detergent, notebooks, highlighters, and so much more!
We have plenty of prizes so there's a good chance YOU could be a WINNER!
SPC HOPES TO SEE YOU THERE!