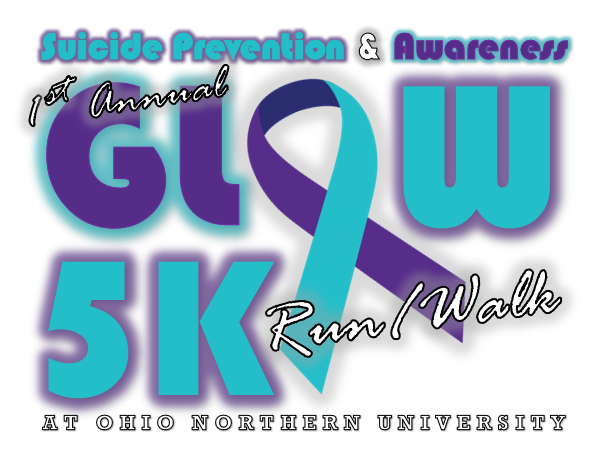 Start Date
Thursday, September 8, 2022 - 7:45 pm
End Date
Thursday, September 8, 2022 - 11:00 pm
Event Contact Name
Thomas Frost
Event Contact Phone #
419-772-2431
Event Contact E-mail
t-frost.1@onu.edu
Ohio Northern University's Committee for Mental Health Prevention and Awareness is hosting their First Annual GLOW 5K (Run/Walk) during National Suicide Prevention and Awareness Week. 
Join us on September 8, 2022 at 8:00 p.m. near the King Horn Sports Center. The first 50 participants who register will receive an ONU Mental Health Prevention & Awareness Water Bottle and Towel!
The cost to participate in the event is $10.00 and you can register online. Additional information regarding the event map, parking specifics, and other information will be made available via email prior to the event date.
However, if you'd like to donate a non-perishable food item to the ONU Polar Bear Cupboard (a food pantry for ONU students) in place of the $10.00 registration fee, please utilize the coupon code -- PBCUPBOARD at checkout when registering for the event from the online registration page. This will waive the $10.00 registration fee. Note: Please be sure to arrive early to drop off your non-perishable food item by 7:45 p.m when you check-in for the event.
If you have any questions regarding the GLOW 5K (run/walk) event, please contact Thomas Frost, Student Affairs Coordinator at t-frost.1@onu.edu or Marcey Bell, Mental Health Outreach Coordinator at m-bell.5@onu.edu. 
Thank you for your support of the Mental Health Prevention & Awareness Committee at Ohio Northern University.