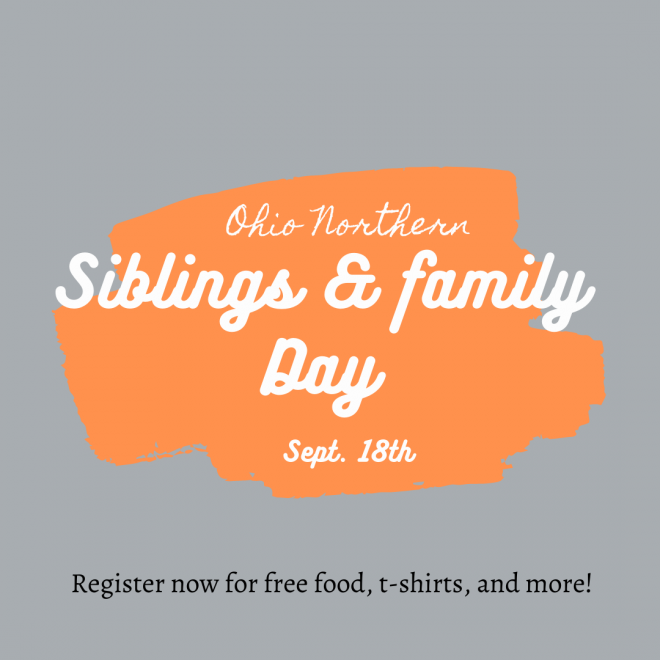 Start Date
Saturday, September 18, 2021 - 9:00 am
End Date
Saturday, September 18, 2021 - 7:00 pm
Event Contact Name
Arin Wade
Event Contact Phone #
7408776671
Event Contact E-mail
a-wade@onu.edu
Family and Siblings Day 2021
Date and Time: Saturday, September 18, 2021 - 9:00am to Saturday, September 18, 2021 - 6:30pm
Event Location: ONU Campus (Tundra) Rain Locations: King Horn
Event Audience: Students
Family and Siblings Day 2021 is Saturday, September 18th
Join us for a fun-filled day at ONU! Family and Siblings Day is a chance to experience the social life of an ONU student. ONU students are encouraged to bring their family members to campus! Registration is free and the sign-up link can be found here. All registered families and students will receive free meal tickets and can order their free t-shirts. A full schedule for the weekend is below.
SATURDAY, SEPT. 18
9 - 11 A.M.  |  REGISTRATION & T-SHIRT PICKUP  |  OUTSIDE FREED CENTER FOR THE PERFORMING ARTS
Visit the Freed Center to complete your registration for Family and Siblings Day; please email senate@onu.edu regarding T-shirts. 
9 A.M. - 4 P.M.  |  VILLAGE OF ADA'S ANNUAL HARVEST AND HERB FESTIVAL  |   MAIN STREET ADA
The Ada Chamber of Commerce hosts the annual Harvest and Herb Festival in downtown Ada every September. The event features a large parade, live entertainment, food vendors and around 180 craft booths. Booths open at 9 a.m., and the parade begins at 10 a.m.
9:30 A.M. - 11:30 A.M.  |  PANCAKE BRUNCH | TBD
Dine outside with your sibs as you start a fun-filled day at ONU and watch the parade.
11:30 A.M. - 1 P.M.  |  ONU CAMPUS TOURS  |  TUNDRA
2 P.M. - 6 P.M.  |  FOOD TRUCK FESTIVAL! | TUNDRA
Join Student Senate for a fun afternoon of inflatables, food trucks and more!