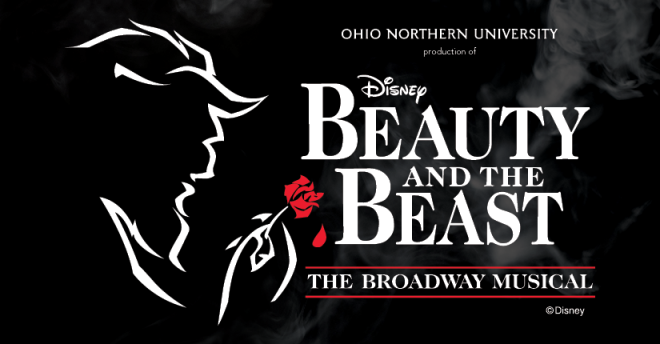 Start Date
Thursday, October 14, 2021 - 7:30 pm
End Date
Thursday, October 14, 2021 - 7:30 pm
Event Contact Name
Freed Center Box Office
Event Contact Phone #
419-772-1900
Event Contact E-mail
boxoffice@onu.edu
Underwritten by Liberty National Bank
Directed and choreographed by Matt Simpkins, BFA '03
Oct. 2, 2021  |  7:30 p.m.
Oct. 3, 2021  |  2 p.m.
Oct. 14-16, 2021  |  7:30 p.m.
Oct. 16-17, 2021  |  2 p.m.
Beauty and the Beast tells the story of Belle, a beautiful and intelligent young woman who feels out of place in her provincial French village. When her father is imprisoned in a mysterious castle, Belle's attempt to rescue him leads to her capture by the Beast, a grisly and fearsome monster, who was long ago trapped in his gruesome form by an enchantress. The only way for the Beast to become human once again is if he learns to love and be loved in return. The Beast's enchanted household—populated by such beloved characters as Mrs. Potts, Lumiere, Cogsworth and Chip—watches anxiously as Belle and the Beast grow to understand and befriend one another. Belle's journey is not just discovering a love beyond the spell, but discovering self-growth, revealing a happier, more rewarding life.
TICKET PRICING:
$20 - Adults
$10 - Seniors
$5 - Students/Children
ONU Campus COVID Protocols: As of Aug. 15, the 2021 ONU Safety Plan requires everyone, regardless of vaccination status, to wear a face covering indoors while on campus. ONU continuously monitors and evaluates safeguards and safety measures. ONU is following Center for Disease Control (CDC) guidance. To view the University's most up-to-date safety plan, please visit onu.edu/covid-19.