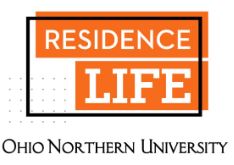 Start Date
Friday, October 16, 2020 - 8:00 pm
End Date
Friday, October 16, 2020 - 10:00 pm
Event Contact Name
Hannah Ray
Event Contact Phone #
4197721300
Event Contact E-mail
h-ray@onu.edu
The Affinity Village Residence Life Staff holds an annual "Homecoming Dance" during Homecoming week each year. Last year, the staff had the dance outside on the Tundra for the first time! Unbeknownst at the time, it was a practice run for all large-gatherings this year. At the dance there are raffle prizes that Reslife raffles off in order to raise money for our philanthropy, the Dolly Parton Imagination Library. There is also a photo booth, and an area with refreshments. This year's theme is "Starry Night."
The event will not collect an entrance fee. However, to "enter" the event, we will request that students scan a QR code to "check-in" to the event. This code will be posted throughout the Tent on the Tundra, on trees and/or poles in that area on the Tundra, and in any email communication promoting the event. The QR code will allow the event organizers to keep track of attendance. We will also request that students scan the QR code again when they leave the event to "check-out." Doing this will help the organizers keep track of attendance in real-time, without having to manually count the number of students present. With that being said, if students do not scan the QR code, and the event appears to have too many students, the event organizers will kindly ask some people to leave. 
If people are violating any COVID-19 policy, like not properly wearing a mask or not social distancing, the event organizers will kindly ask them to leave. To dance, people will be asked to either stay 6 feet apart or dance in family units. However, the playlist will try to include a majority of line dances, so that people can dance 6 feet apart in unison. For the songs that are not line dances, people will have to be creative on how to dance while distanced. 
We will have contactless payment for the raffles. Students will be able to place their raffle tickets and leave the event, while still being able to win, since their names will be written on the tickets by a Reslife staff member. 
Refreshments will be served by a Residence Life Staff member, and free glow sticks will be handed out. 
We hope to see you all at the Starry Night Dance!