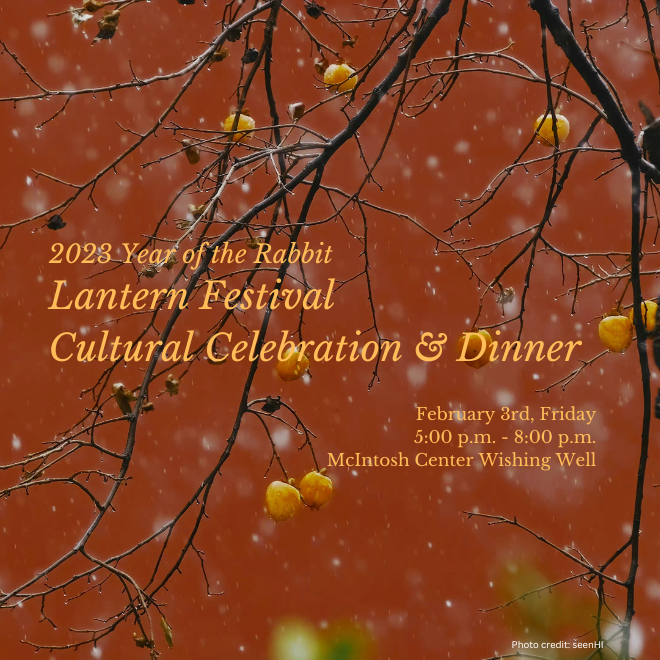 Start Date
Friday, February 3, 2023 - 5:00 pm
End Date
Friday, February 3, 2023 - 8:00 pm
Event Contact Name
Dr. Ye "Solar" Hong
Event Contact Phone #
419-772-1202
Event Contact E-mail
y-hong@onu.edu
Spring Festival is commonly referred to as a 15-day celebration at the beginning of a new year on the traditional Chinese lunisolar calendar. It is one of the most important holidays in Chinese culture, and has influenced and inspired the various celebrations for the lunar new year in many other regions and countries in Asia and around the world.
In this Year of the Rabbit, February 3rd falls as the 15th day of the Spring Festival, and this day is also recognized as the Lantern Festival.
With the support from the McIntosh Center, the Office of Multicultural Development, and campus Dining Services, this event is hosted for faculty, staff, and students to join our Asian and Asian American campus community members here at ONU, to celebrate one of the most important holidays in their cultures. Cultural activities are provided for you to try some Chinese calligraphy writing and make your own Spring Festival couplets "chunlian" and "Fu'' for the holiday, to make some traditional Spring Festival items, such as Red Envelope, and to win some cultural items as prizes.
Click here to add this event to your calendar, and please RSVP here for catering purposes. Beverages and Asian food are provided, with reception starting from 5:00 p.m.