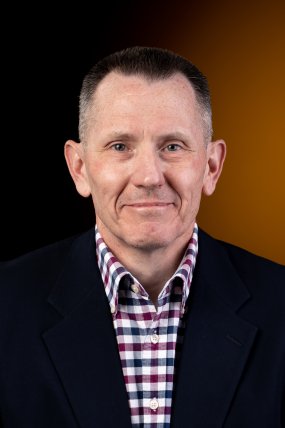 Academic Credentials
ACSM-Certified Exercise Physiologist
Research Interests
Environmental Physiology/Physiology of Aging
Employee degree:
BS, Youngstown State University
MA, Kent State Univ, Main Campus
PHD, Kent State Univ, Main Campus
Biography
Dr. Potkanowicz arrived at Ohio Northern University in 2011 after holding graduate and undergraduate faculty positions at Ohio University and Northeastern Illinois University. His research interests include both environmental physiology and the physiology of aging. As an avid runner and cyclist, Dr. Potkanowicz has a very keen interest in understanding how the body responds to the stress of performing in extreme environments and how the aging process impacts our ability to perform over time. When not working, Dr. Potkanowicz can usually be found adding miles to his weekly running total or out cycling with his wife Deanna.
Dr. Potkanowicz's Website Can Be Viewed HERE
Sample Publications
Potkanowicz, E.S., Ferguson, D.P., and Greenfields, J. The Impact of Repeated Driving Stints on the Physiologic and Hormonal Responses of Endurance Driver-Athletes. Medicine & Science in Sports & Exercise. 53(3):551-558. 2021.
Potkanowicz, E.S.  "Commentary on Motorsport and Driver-Athlete Research" [Invited Commentary] Medicine & Science in Sport and Exercise. 51(12):2547. 2019
Potkanowicz, E.S. "The Challenge of the Petit Lemans: A Case Study and Commentary in Driver Science. Medicina dello Sport 71(4):627-35. 2018.
Potkanowicz, E.S. Physiological Responses of Female Motorsport Athletes to the Environment of the Cockpit: A Case Study. AUTO+Medical; FIA Int'l Journal of Motorsports Medicine. 4(9): 48-59, 2016 
Potkanowicz, E.S. and Barthlow-Potkanowicz, D.L. Attitudes of Undergraduate Exercise Physiology and Exercise Science Students Towards Older Adults. Journal of Athletic Enhancement. 4(6): 2015.
Potkanowicz, E.S. A Real-Time Case Study in Driver Science: Physiological Strain and Related Variables. International Journal of Sports Physiology and Performance,10(8): 1058 -1060, 2015.
Potkanowicz, E.S. and R. Mendel. The Case for Driver Science in Motorsport: A Review and Recommendations. Sports Medicine. 43(7): 565-574, 2013
Courses Taught
Research & Design
Exercise Pathophysiology
ECG Interpretation
Physiology of Aging
Sports Nutrition
Supplementation & Ergogenic Aids in Sport
Practical Applications in Exercise Physiology 
Introduction to Exercise & Health