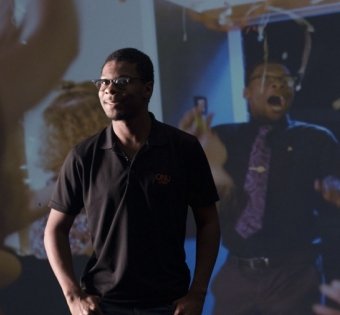 Many scenes in ONU's first broadcast television commercial, "The Unexpected," took take after take to get right. DeMaje Jones' surprise party scene only took one.
Jones happened to be in the right place at the right time when he was pulled into filming, but he had no idea what was about to happen. He had been welcoming new members with his music fraternity, Phi Mu Alpha Sinfonia, when he noticed some commotion going on across the hall. The film crew later approached his group and asked for a volunteer, to which Jones enthusiastically agreed.
"The crew said, 'We're not going to tell you what for, but we just need you to walk through that door in 30 seconds,'" Jones says.
So in a leap of faith, he waited his 30 seconds and then walked through the door to a surprise birthday party set. As his reaction in the video clearly shows, he was indeed genuinely surprised. Everyone began to sing "Happy Birthday" and had agreed to insert the fake name Alex – a coincidental irony, since Jones' fraternity used to call him Alex as part of a running joke.
Jones says the presence of the surprise party scene within the video holds a deeper meaning that speaks to the very title of the video, "The Unexpected."
"There's always something spontaneous that can happen," Jones says. "I feel like my scene, in a way, is a metaphor of how surprising your time could be at ONU."
Jones, who is from Sandusky, feels that the video will help attract students like himself from new areas of the state. When asked how he feels about appearing in the video, Jones playfully says, "I'm personally going to feel like I'm a super star."